Lifestyle
For a relaxing, quiet time. At the end of summer, sake and glassware – Lifestyle | SPUR
#Unfiltered raw sake and mint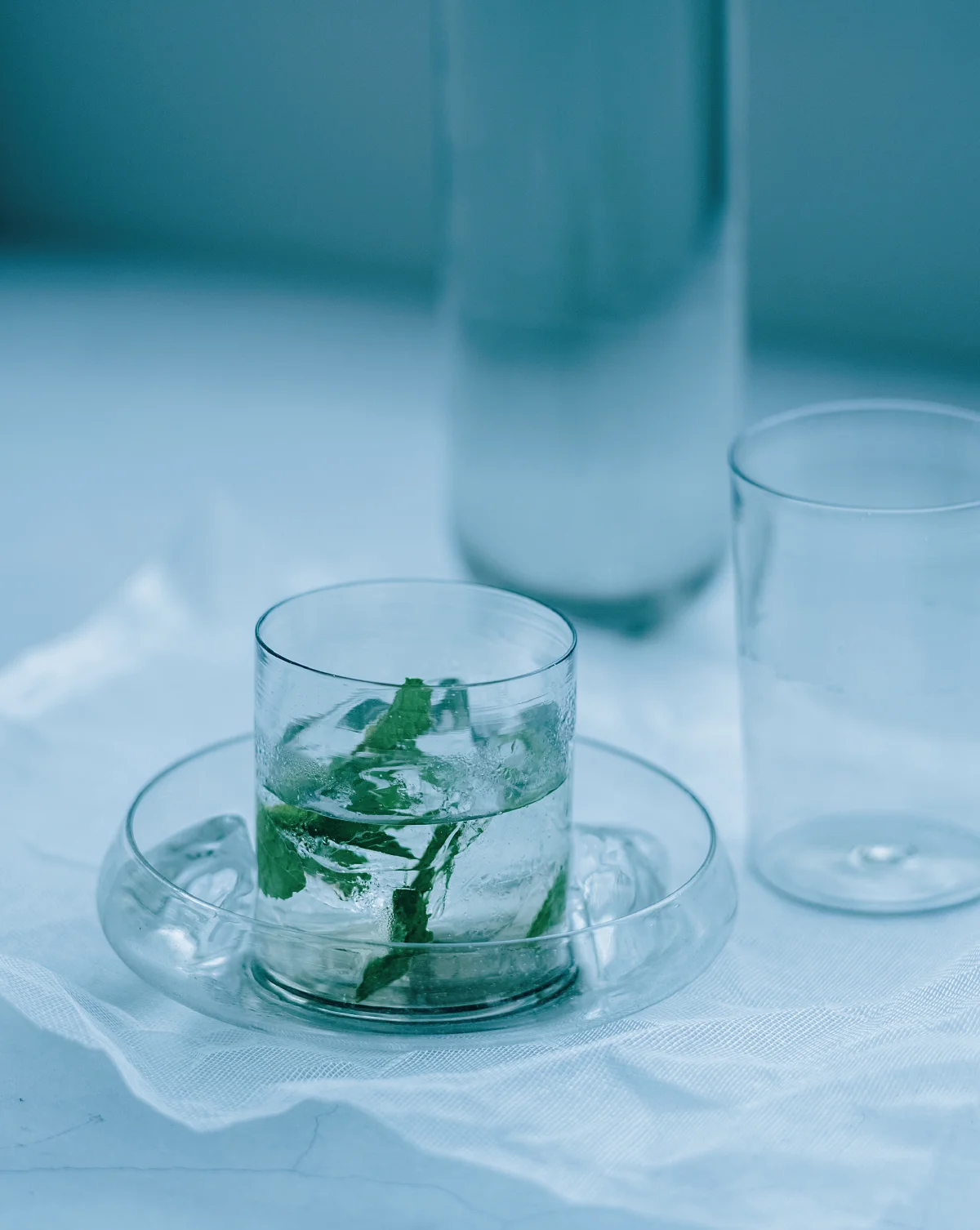 Add the coolness of mint to sake that suits summer
"In recent years, unfiltered unprocessed sake has become more popular due to improvements in quality control technology. It has a fresh taste and is perfect for summer. It has a high alcohol content, so we recommend pairing it with ice," says Mr. Chiba. Add mint to it. When it comes to mojitos, rum is the standard, but "adding fresh herbs expands the variety of aromas and has the effect of masking the koji odor that is unique to sake."
Nishimura blue slit glass
Mr. Ao Nishimura, a cutting-edge glass artist who works at Peter Ivy's studio "Flow Research Institute" and creates his own works once a week at the same studio. Using recycled glass from fluorescent lamps as raw materials, tableware created by blowing glass seems to be between design and objects. While maintaining the original transparency of glass, it also impresses with a solid and sensual appearance. His work hides complex and difficult techniques such as slightly smoky hues and decorative slits that convey the beautiful traces of handwork.
#Nigori sake and Japanese pepper powder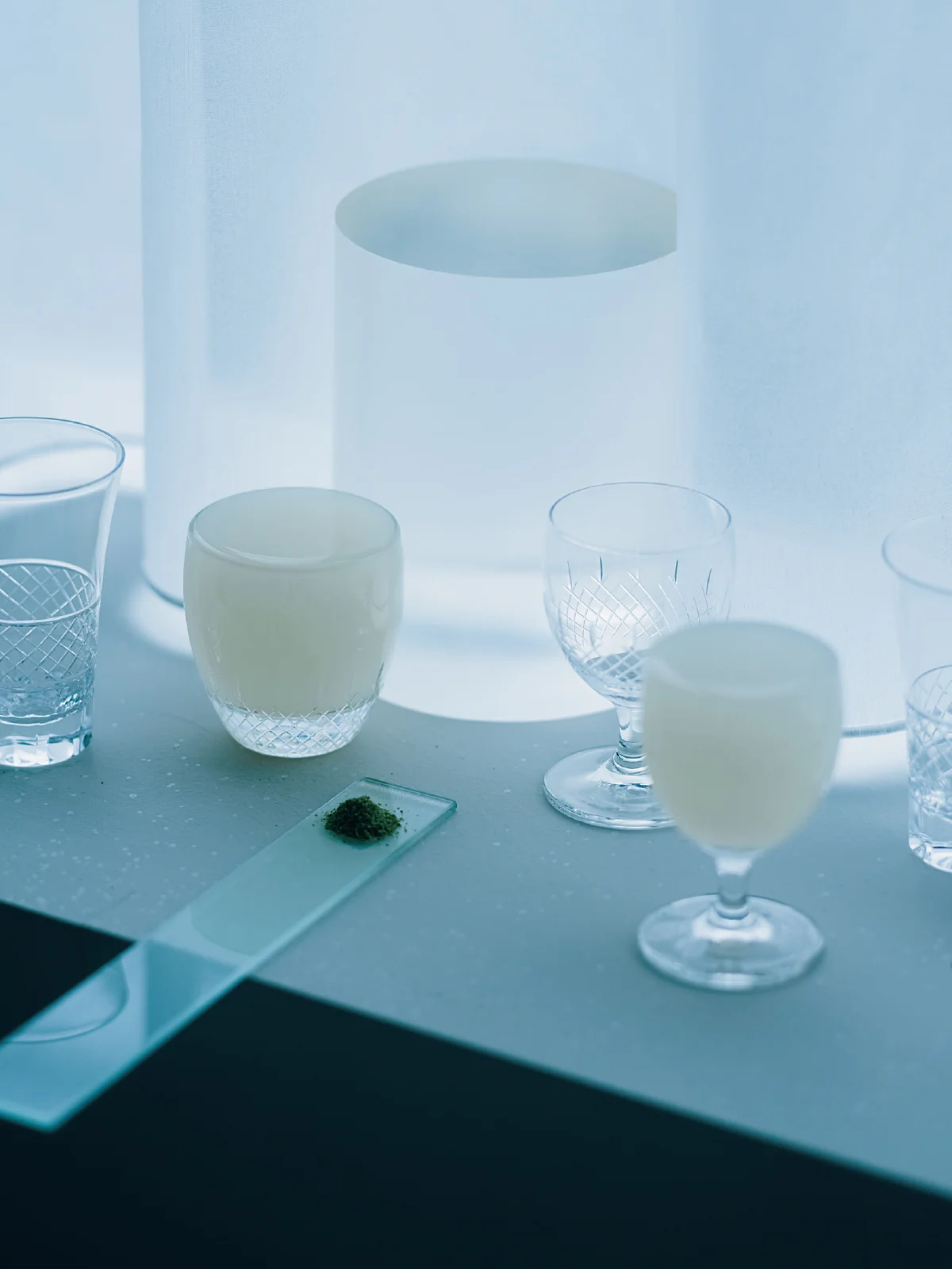 Freshness like yogurt is a new sensation
Nigorizake refers to sake that is strained with a coarse cloth when squeezing fermented moromi. "In recent years, sake with a white turbidity like light snow has been attracting attention around the world. It is characterized by its thick texture and unique sweetness, as well as flavors reminiscent of mandarin orange and lemon peel. If you sprinkle a good amount of sansho powder on it, it will become even more gorgeous." The spicy spice reduces the sweetness of the sake, making it easier to drink and easier to pair with food.
Haruya Hiroshima cut glass
After studying under Mr. Kazumi Tsuji, after becoming independent, he followed the path of a cut glass artist who made order-made sake cups for enjoying whiskey and sake, cups for dessert, etc. in Kanazawa City. His style is characterized by bold cuts of original patterns on each slightly smaller glass. The light that hits the glass surface is diffusely reflected, creating a beauty that will make you admire. When you pour sake into it, it becomes even more humid, inviting you into a fantasy world.
#Special pure rice sake and coffee ice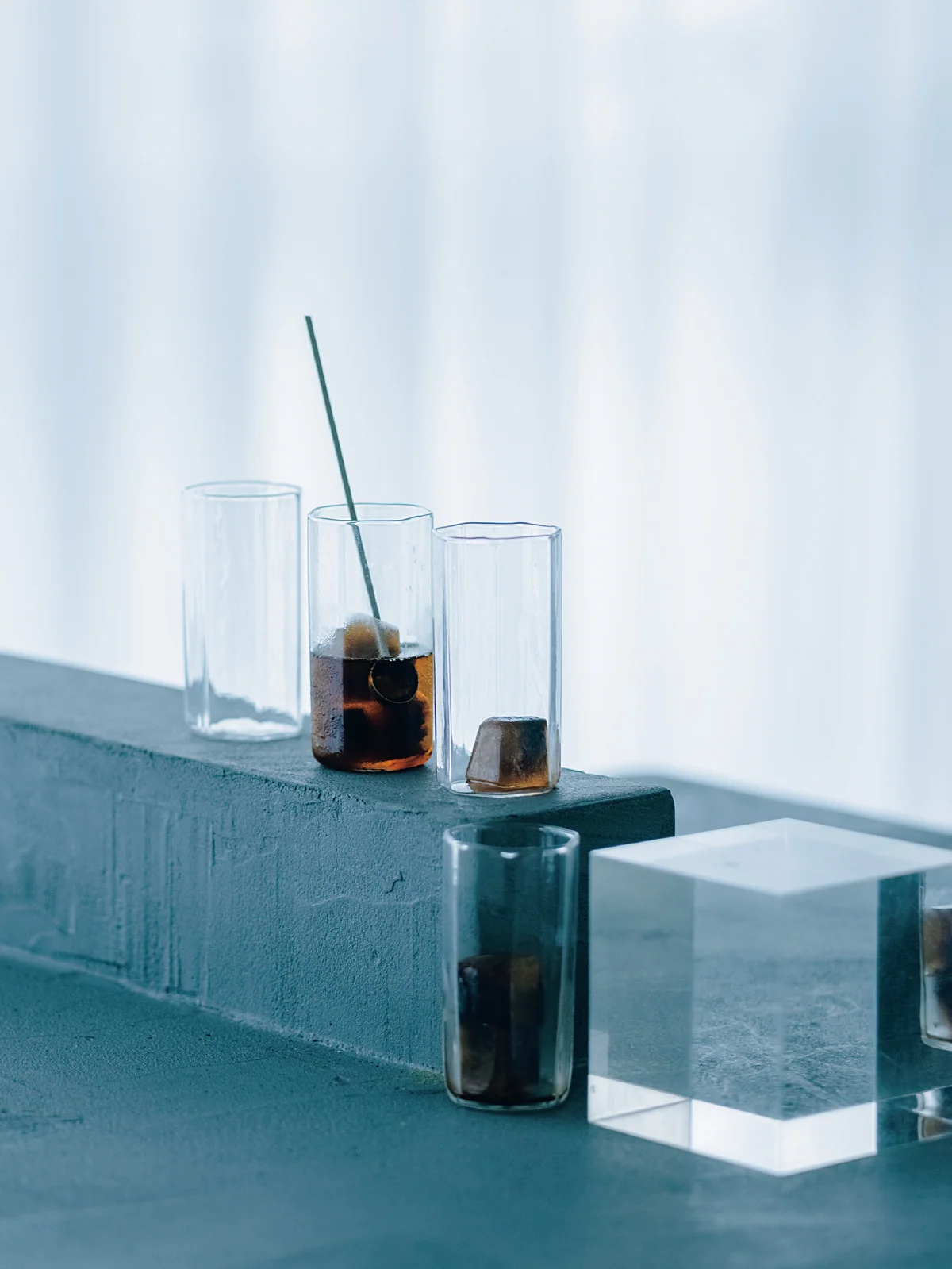 "Cold coffee" for adults
"Once you brew coffee, freeze it in an ice machine to make "coffee ice." Just put a few in a glass and pour in some sake to create a fascinating drink. A special junmai sake that uses only malted rice and has an impressive natural umami of rice and a refreshing aftertaste.Light to medium-roasted coffee with a moderate bitterness is best." It's fun to feel the change in taste as the ice melts. "It will dramatically improve the taste of reasonably priced sake and coffee, so please try it."
Yoshi Taniguchi's heptagonal glass
Primitive translucency that gently transmits light. Created by a unique mold-blowing technique that blows glass into a concrete mold, the subtle fluctuations on the surface are like thin ice. The attractive texture that sticks to the skin is by Yoshi Taniguchi, an artist who graduated from Tama Art University and now lives in Kawasaki City, Kanagawa Prefecture. The glass, which is about 10 cm high, is not the usual hexagon or octagon, but a heptagon that is impossible to draw with a compass or ruler. The prismatic glass is minimal yet has a mysterious mood. A dignified appearance that elevates any dining table in style.
#4mmp sake and dried fruit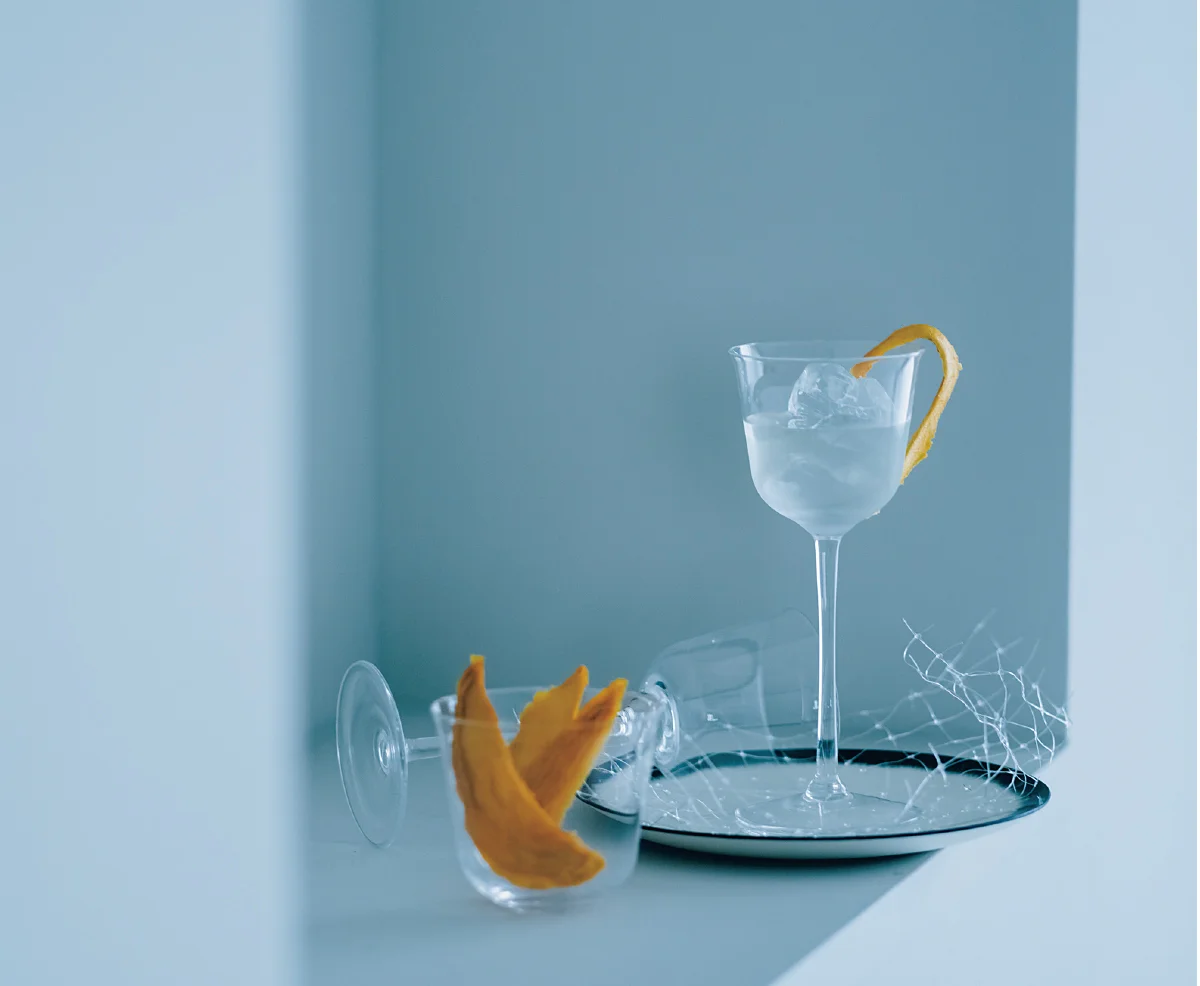 Smells and feels like wine.A new wave in the sake world
"A new genre that was born during the coronavirus pandemic, out of a desire to overturn the concept of traditional sake. As a result of using low-glutelin rice such as "Shunyo" and "Mizuhonoka", we discovered an aroma component called 4mmp. Sauvignon blanc. It has a new scent reminiscent of wine-like muscat, lychee, and green apples, and it goes well with dried fruits in pairing.
Ann Demeulemeester wine glass
Ann Demeulemeester called "Antwerp Six". After retiring from the front line of the fashion world, he devotes himself to designing tableware in general, which was also his hobby. In particular, the glass has a clear sense of transparency, and the form that draws a smooth curve is like an art piece. There are many fans for the beauty of flowers blooming on the table.
#sparkling wine and vanilla ice cream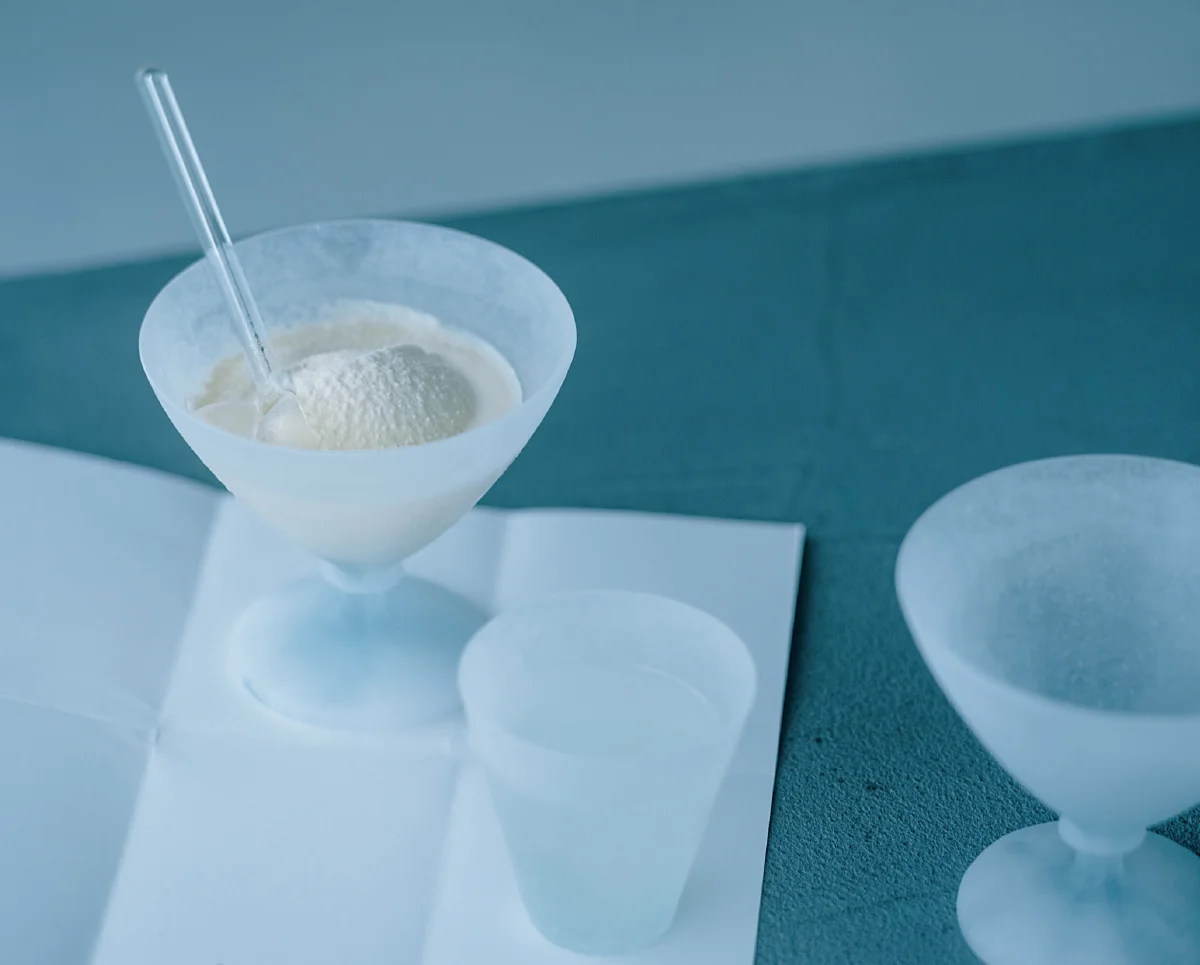 Easy but rich taste.Indulge in exquisite desserts
"Sparkling is popular as a toast drink, but it's also an excellent dessert after a meal. Just pour it over commercially available vanilla ice cream (the refreshing type is recommended) to create a luxurious cheesecake-like nuance. To match with sparkling daiginjo.It has a gorgeous aroma and gorgeous taste, and goes well with dairy products containing fat such as cheese, fresh cream, and ice cream."
Mayuko Ogawa compote glass
Part de Verre is a glass technique that originated in the ancient Mesopotamian era, in which glass particles are placed in a mold, fired, and then the mold is broken and taken out. Ms. Mayuko Ogawa, who became independent from "Glass Kikakusha" in Sumida Ward in 2021, devotes a huge amount of time and effort to this technique. A matte texture, a gradation like a watercolor painting that changes from milky white to pale blue, and a gentle mood. The original attractive design is revived with a Japanese sensibility into a noble and unique appearance.
Brands recommended for new tastes of sake
From charming tastes to seductive tastes, sake with a variety of expressions is increasing. What is Mr. Chiba's carefully selected brand that is unexpected but not mistaken?
1 Tamagawa Junmai Ginjo Ice Breaker and Spearmint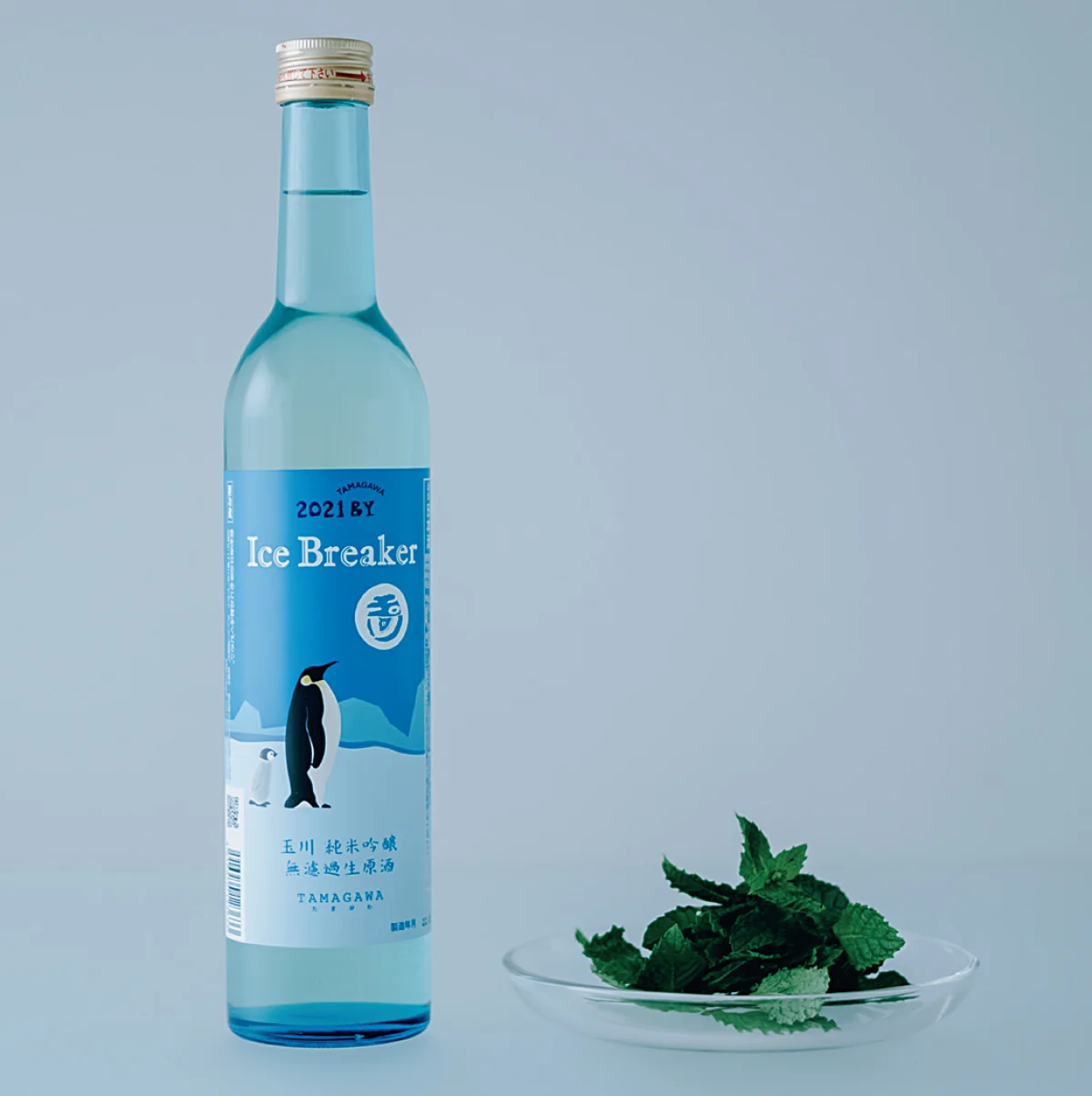 A summer-only sake made by Philip Harper, a master brewer who graduated from Oxford University. It has a high alcohol content of 17-17.9%, so it is recommended to enjoy it on the rocks while melting the ice. It is not filtered, pasteurized, or added with water, and is unfiltered, just like "sake that was just born". Harmony with spearmint, which has a strong refreshing feeling, to create a burst of summer.
2 Kawatsuru Sanuki cloudy and Yamatsu Tsujita powder Japanese pepper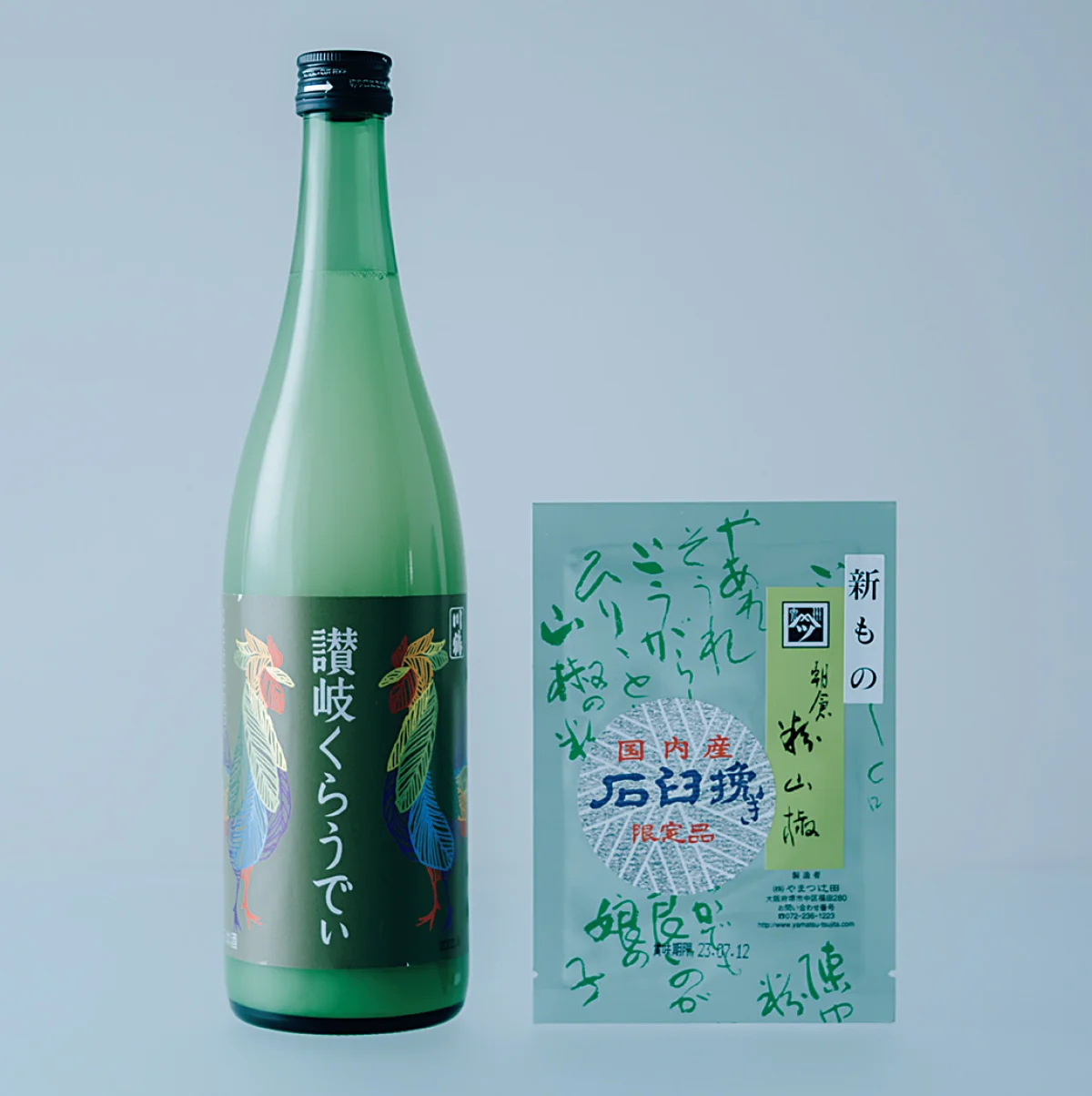 (Left) Generally, sake has around 15% alcohol, but this one has 6% alcohol. Although it is light and comfortable to drink, it uses three times as much white koji as usual, so it has a strong sweet and sour taste. It is extremely creamy because it contains a cloudy ingredient called oli. Compatibility with spice dishes is also ◎.
(Right) A masterpiece from a long-established Japanese-style spice shop in Osaka. The stone mill method is used so as not to impair the color of the young leaves and the refreshing aroma.
3 Nanbu Bijin Tokubetsu Junmai Sake and Maruyama Coffee Coffee Bag "Berry"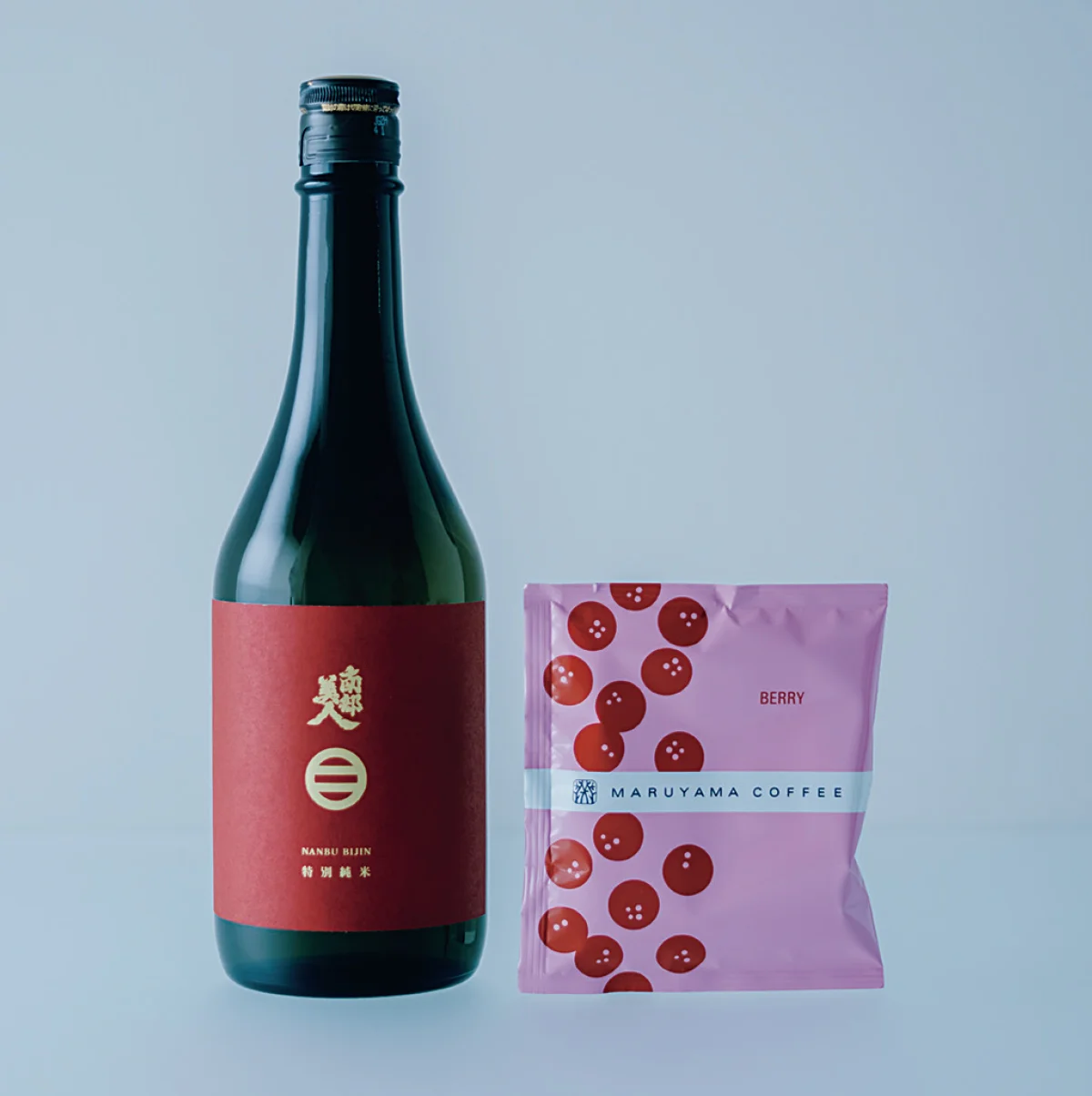 (Left) The 2017 "International Wine Challenge", a masterpiece that won the championship out of 1,245 brands from around the world. The ultimate terroir brewed using Iwate's original sake brewing rice "Gin Otome", which is produced with local farmers, and underground water from Oritsume Basenkyo. It has a mellow flavor that spreads freely and has a crispness to it.
(Right) Single-origin coffee with a fruity flavor. Convenient coffee bag type.
4 Semi-dried mangoes from EIKUNholic and Horiuchi Fruit Garden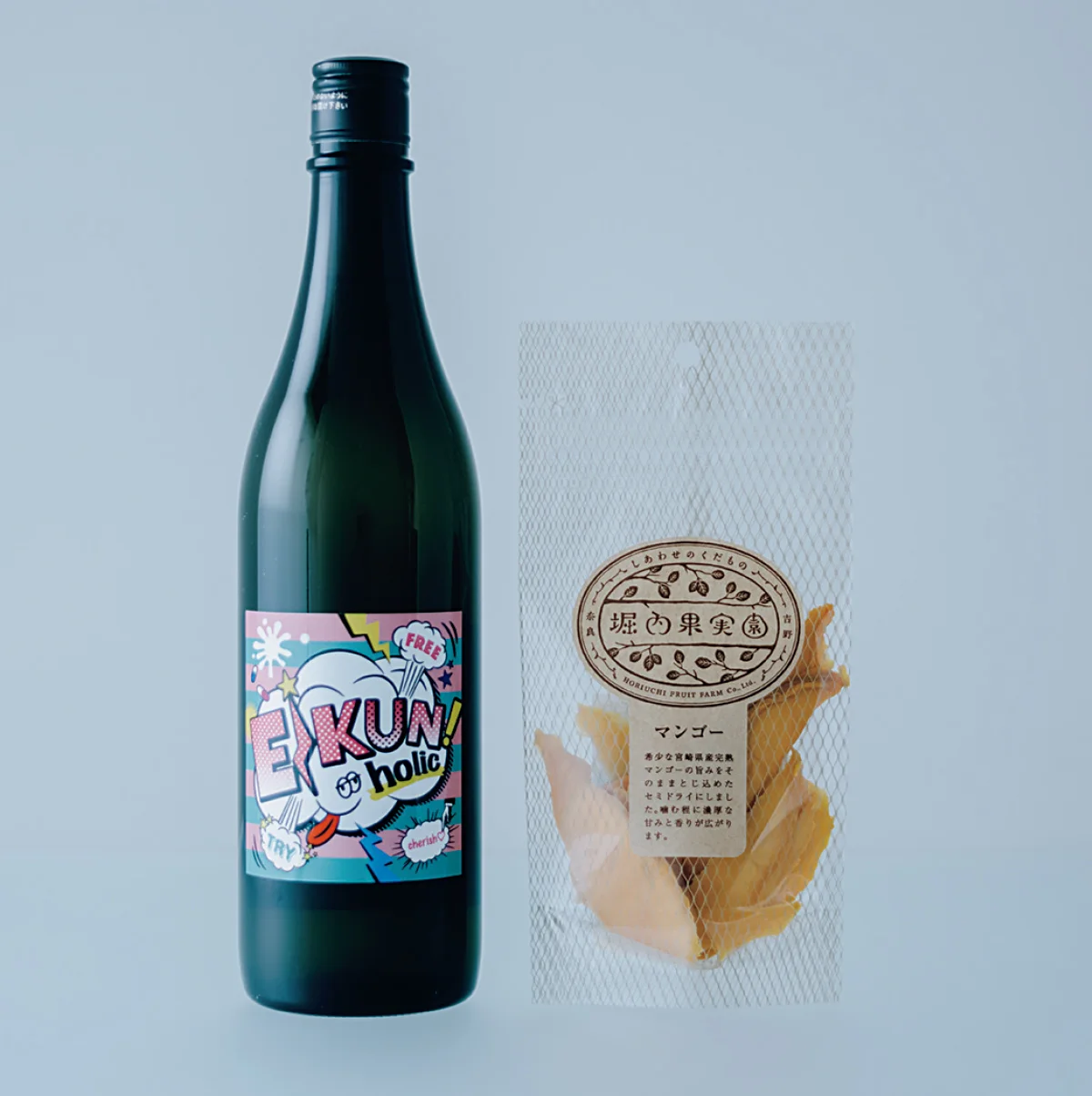 (Left) A long-established sake brewery in Shizuoka that brews sake with the theme of "sake that you won't get tired of drinking." The sake created in collaboration with Marie Chiba has a juicy fruit-like aroma and a light aftertaste. It is easy to enjoy pairing with a wide range of meals with a sense of wine. In addition to drinking it chilled, it is also delicious with ice on top. Limited edition.
(Right) Semi-dried rare ripe mango from Miyazaki Prefecture. Aroma and sweetness overflow endlessly.
5 Dassai Junmai Daiginjo Sparkling 45 and LOTTE Refreshing Vanilla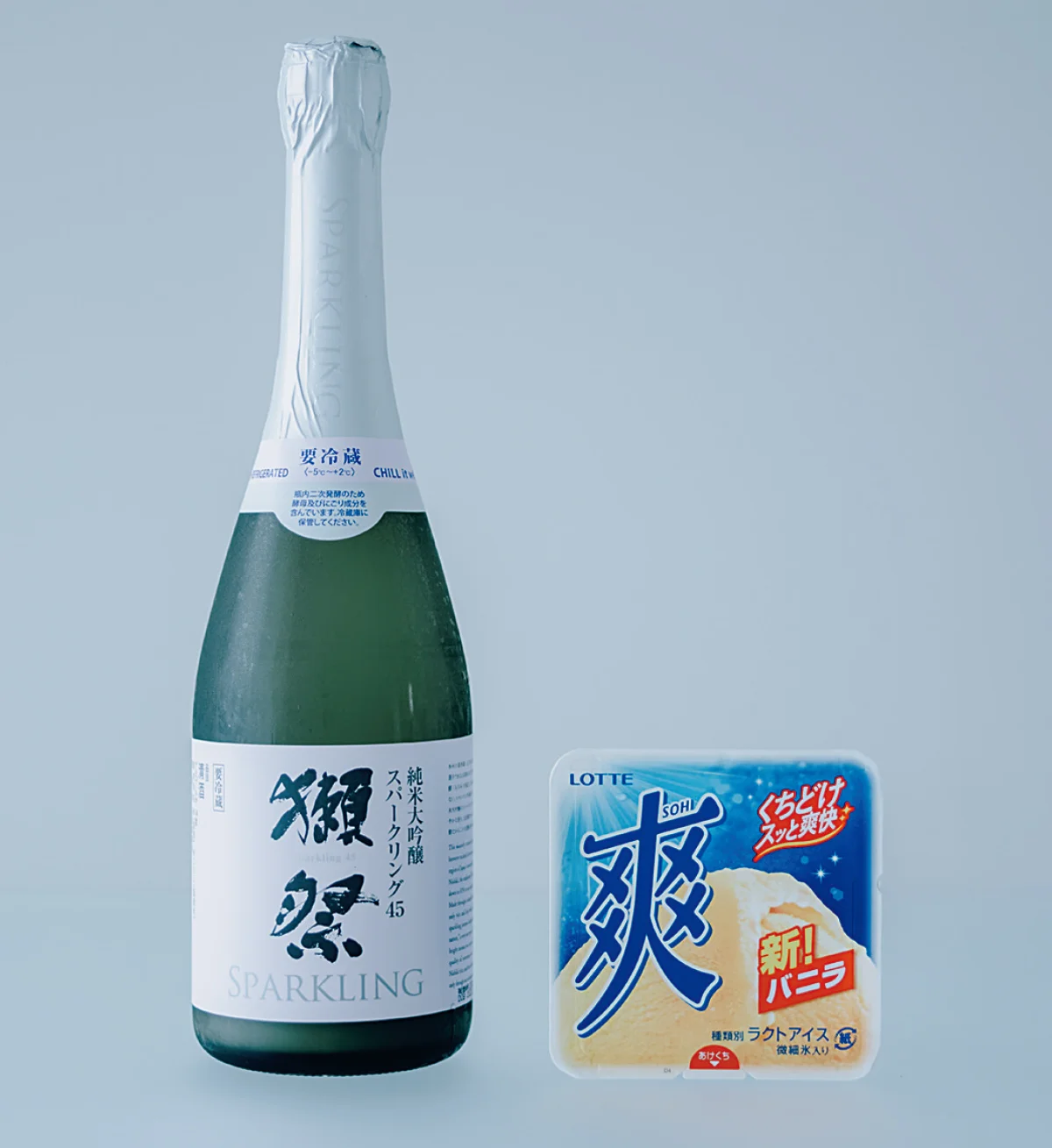 (Left) A brand that spreads the culture of sake around the world. While expanding its fan base around the world, it is also a robust sake brewery that still strives to brew sake using traditional methods. This highly popular product is characterized by its gorgeous aroma, rich sweetness, and sharp aftertaste. Nigorizake is used to directly convey the appeal of sake, and the power of natural fermentation is used for secondary fermentation in the bottle.
(Right) With fine ice, it melts in your mouth and goes well with Japanese sake.
Profile/Marie Chiba "GEM by moto" Producer
Marie Chiba●Studied material processing of food at Yamagata University and entered the world of Japanese sake. At the bar "GEM by moto", she proposes a pairing of sake and food using her chemical knowledge. She also produces various brands with flexible ideas and drives the sake boom.
Source link