Fashion
Modern uses for ties, brooches and scarves. New rules for decorating the chest – Fashion | SPUR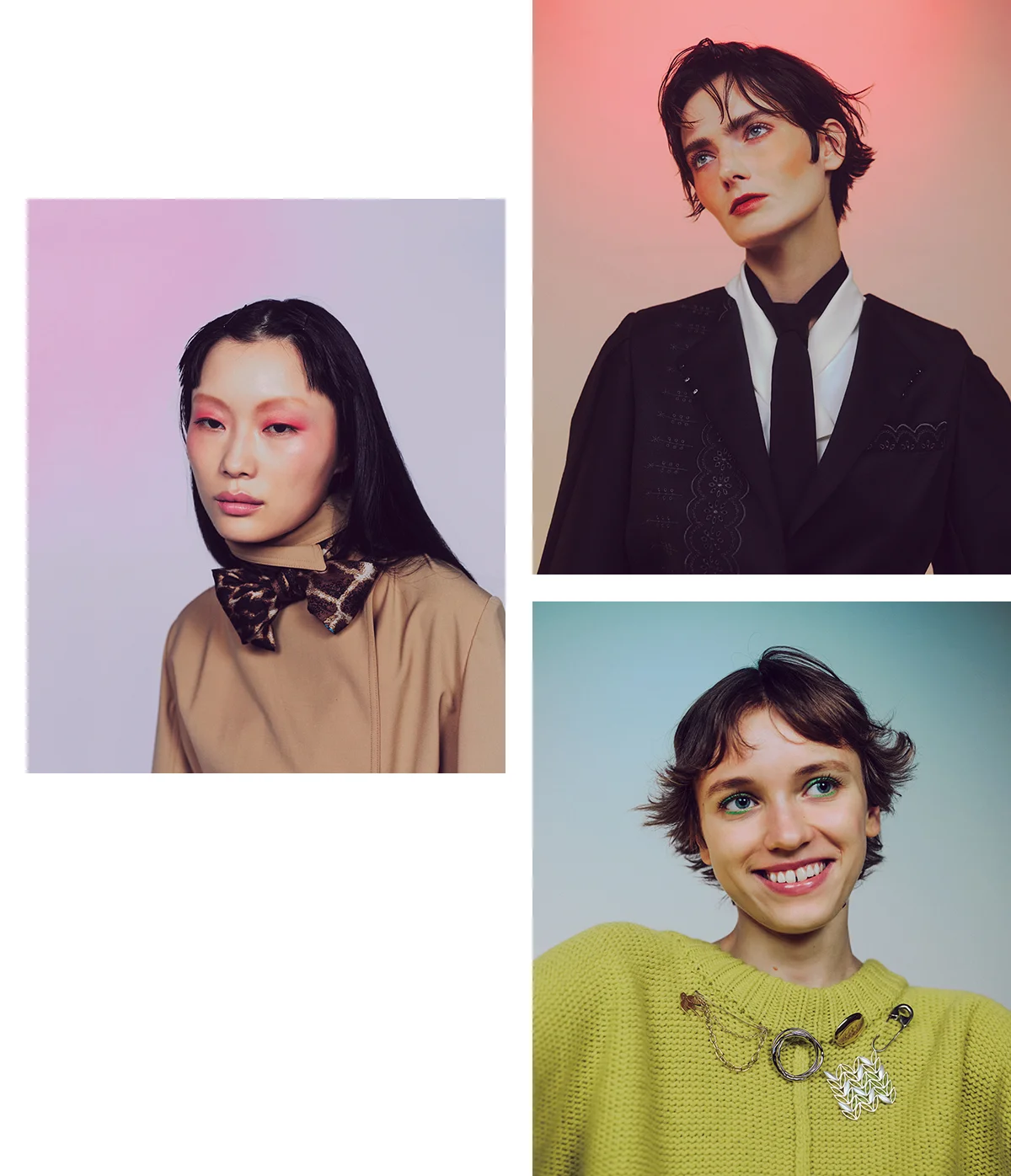 (Upper right) It is smart to put together a black tie in a clean monotone. By wrapping it directly around the neck instead of passing it under the collar, depth is created as if layering. An authentic combination of a jacket and tie can be transformed into a twisted style with this trick.
Tie ¥ 25,300 / MATT. Jacket ¥ 113,300 / Mr. It Tops ¥ 143,000 (reference price) / Chiyono Ann
(Lower right) Mix various motifs at will.
(From left) Chain brooch ¥23,100 / Nepenthes Woman Tokyo (Rodrillion) Hoop brooch ¥6,050 / United Arrows Customer Service Desk (Maruu United Arrows) Oval brooch ¥34,100 / Ryuk Leaf brooch ¥49,500 / Gallery de Poisson (Fumie Sasaki) Pin brooch ¥ 23,100 / The Factory (Jane Smith) Knit ¥ 160,650 (reference price) / Pred PR (Meryl Rogge)
(Left) An eye-catching and powerful print that fuses leopard, giraffe, and zebra patterns on high-quality silk for a sophisticated item. If you raise the collar of a neat trench coat and make a large ribbon around the neck, you can create a classic style that is also charming. Combining the scarf and coat in the same tone is also an important point to sublimate into a mature look.
Scarf <67 x 134 cm> ¥ 17,600 / Manipuri coat ¥ 212,300 / Eastland (Cor)
RULE.1 The tie should be black or beige.blend in the same tone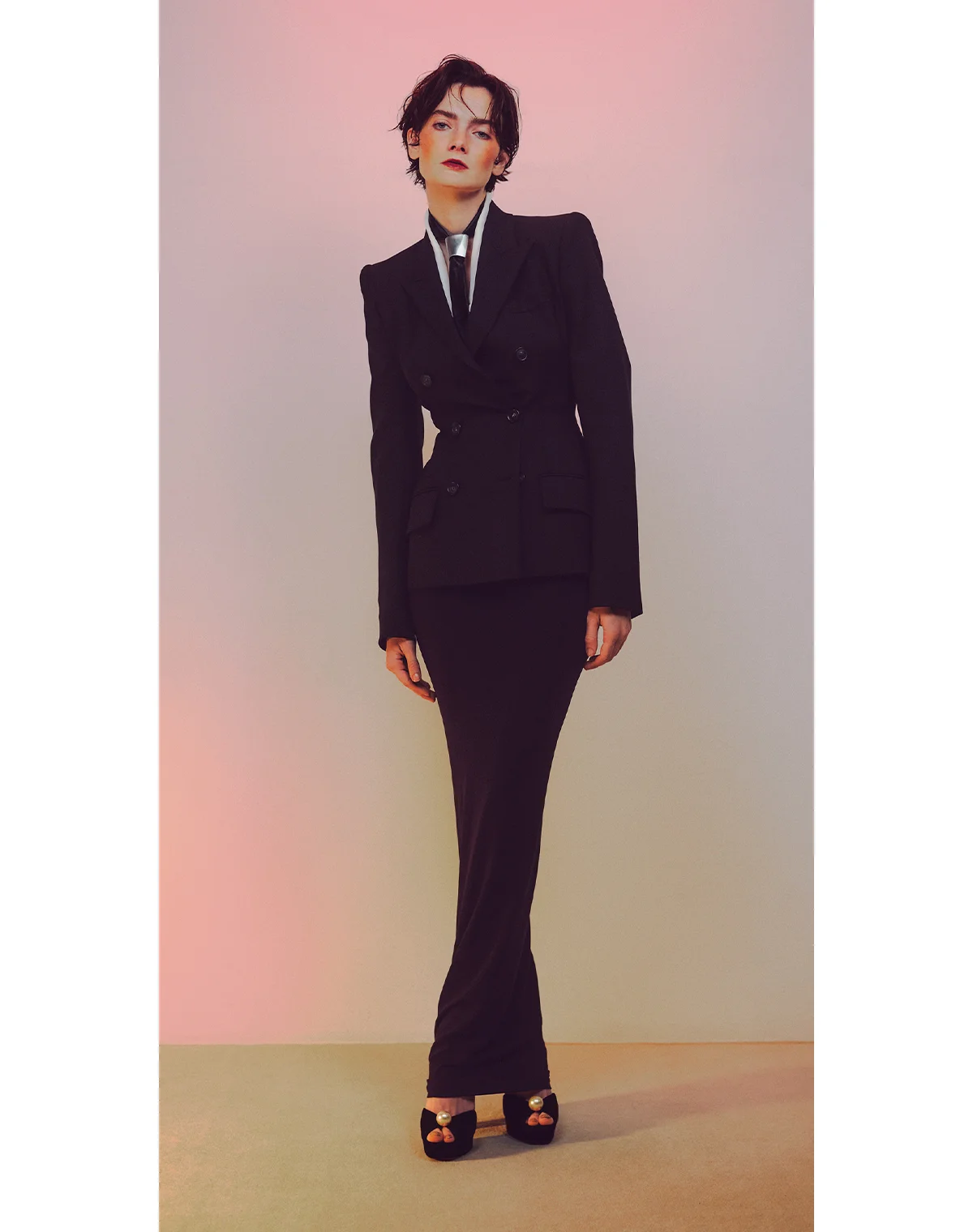 The most popular necktie is finished in a mode style without being too stiff when combined with similar colors. Black can be paired with a jacket for a neat look, and beige can be paired with a shirt for a more sophisticated look.
Combine with items with tight shapes
A waist-enhancing jacket and elastic skirt create a curvaceous silhouette. The necktie also has a narrow design, giving it a sophisticated mood with no detail overlooked. Don't forget to let the tiling shine boldly for a touch of glamour.
Necktie ¥ 27,500 / Accessory attached to the tie ¥ 29,700 (reference price) / Jacket ¥ 185,900 / Max Mara Japan (Sports Max) Tops ¥ 143,000 (reference price) / Chiyono Ann Dress worn as a skirt ¥ 28,600 / Sazabi League (Walford ) Shoes ¥ 130,900 / JIMMY CHOO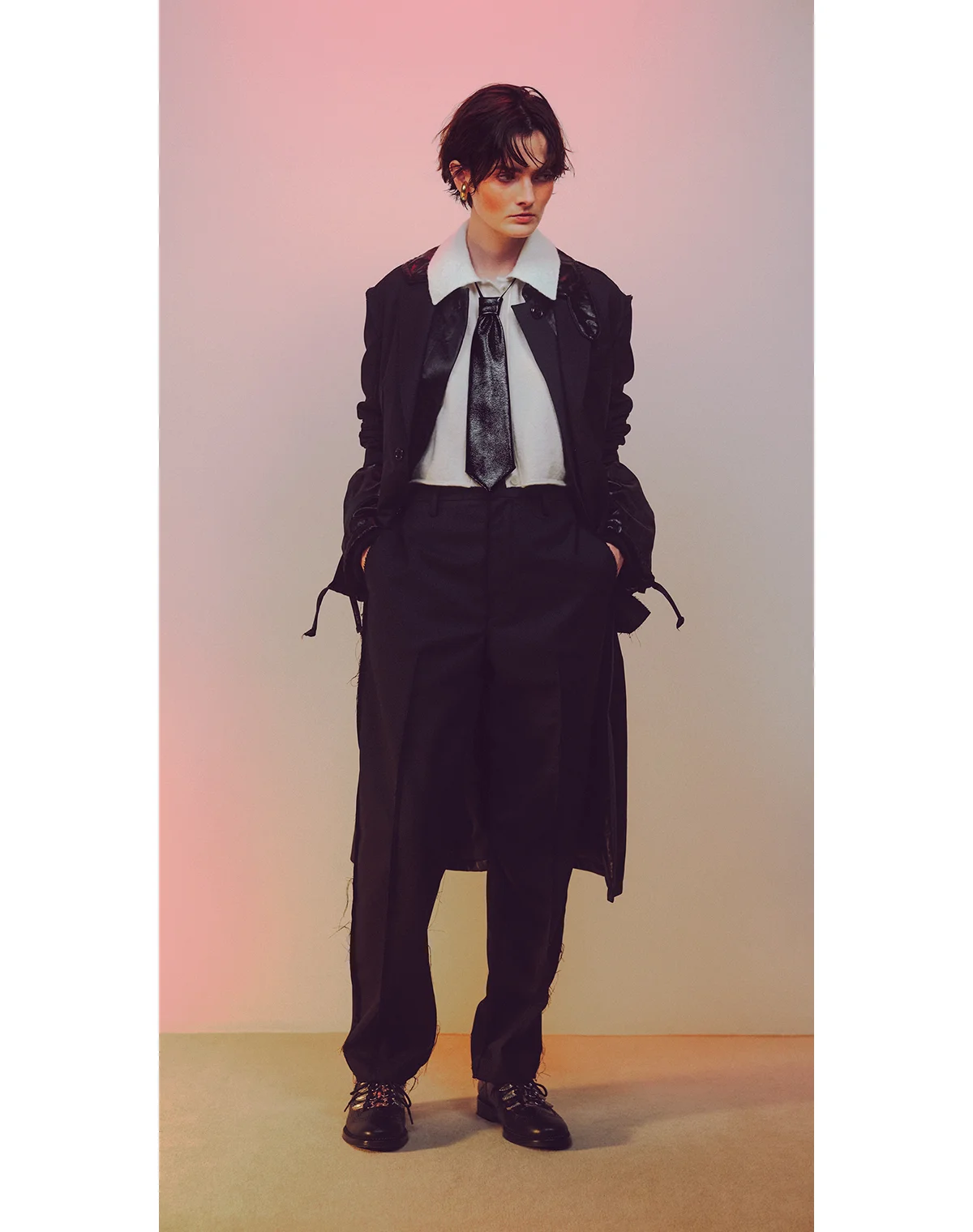 Chic with texture synchronization
Be handsome with masculine items. Choose a shiny tie for a gorgeous accent. If you put an overcoat of the same texture under the jacket, even a chic monotone will not be safe.
Necktie ¥ 13,200 / Anna Sui Japan (Anna Sui) Ear cuff ¥ 26,950 / Know-how Jewelry (Know-how) Jacket ¥ 81,400 / Pants ¥ 44,000 / ALMOSTBLACK Coat ¥ 99,000 / Showroom Links (Photocopy) Tops ¥ 35,200 / H Beauty & Youth (Russ) ) Shoes ¥ 63,800 / TOGA Harajuku store (Toga Purura)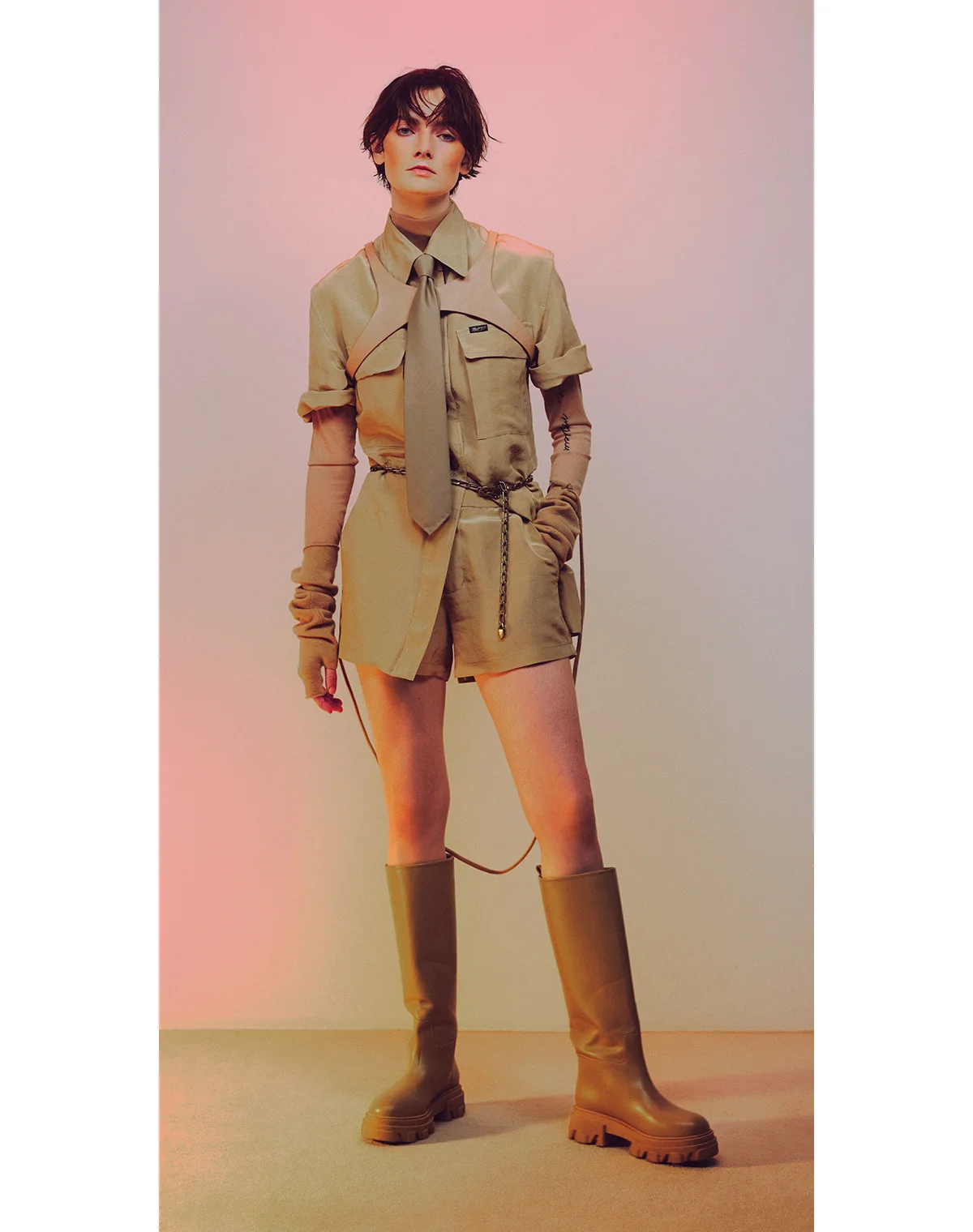 Match colors and play with materials
The point is the leather body belt and knit gloves that are similar in color to the necktie. The difference in materials gave it a sharp look.
Necktie ¥ 18,700 / Isetan Shinjuku (Ardy & Sea 1956 Milano) Body belt ¥ 30,800 / Doll (Fumie Tanaka) Shirt ¥ 63,800 / Shorts ¥ 41,800 / Showroom Links (Photocopy) Turtleneck ¥ 26,400 / Mr. It Gloves ¥ 28,600 / Adam et Lope (Extreme Cashmere) Belt ¥ 15,400 (Atelier Amboise) / Shoes ¥ 95,700 (Zia Borghini) / Martinique Leconte Lumine Yurakucho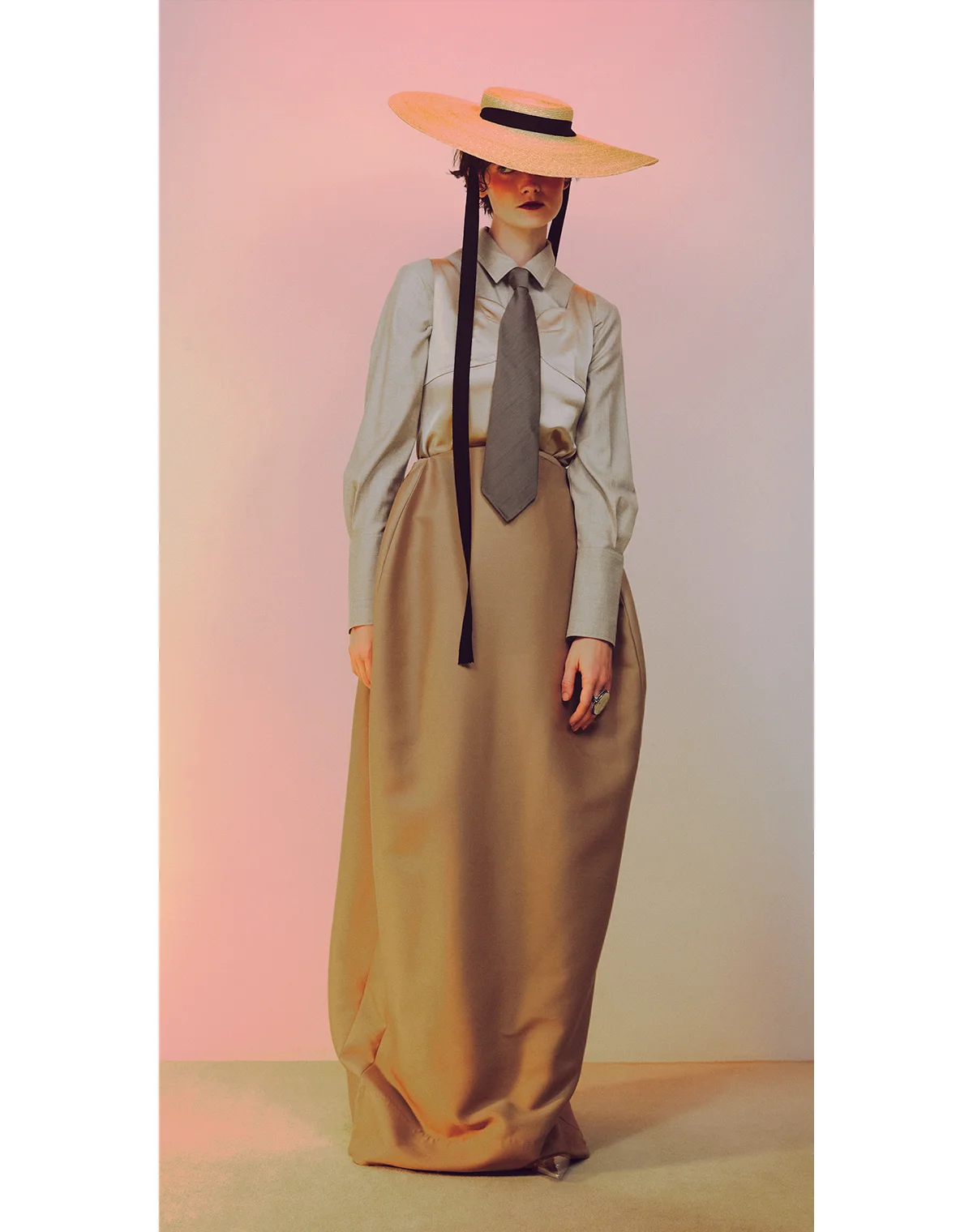 MIX the mood and texture with exquisite balance
Tighten a traditional necktie for an extraordinarily ladylike styling for an unexpected betrayal. In contrast to the glossy shirt, choosing a slightly brushed material for the tie will make the whole look more expressive.
Necktie ¥19,800 / United Arrows Harajuku Main Store (Fratelli Luigi) Hat ¥27,500 / Goonie (Heads) Tank Top ¥14,300 / Mural Shirt ¥85,800 / Eastland (Cor) Ring ¥59,400 / HPFRANCE (Gem Kingdom) Worn as a skirt Dress ¥ 136,400 / THE WALL PR (Harnobu Murata) Shoes ¥ 108,900 / JIMMY CHOO
RULE.2 Change the number of brooches depending on the clothes you wear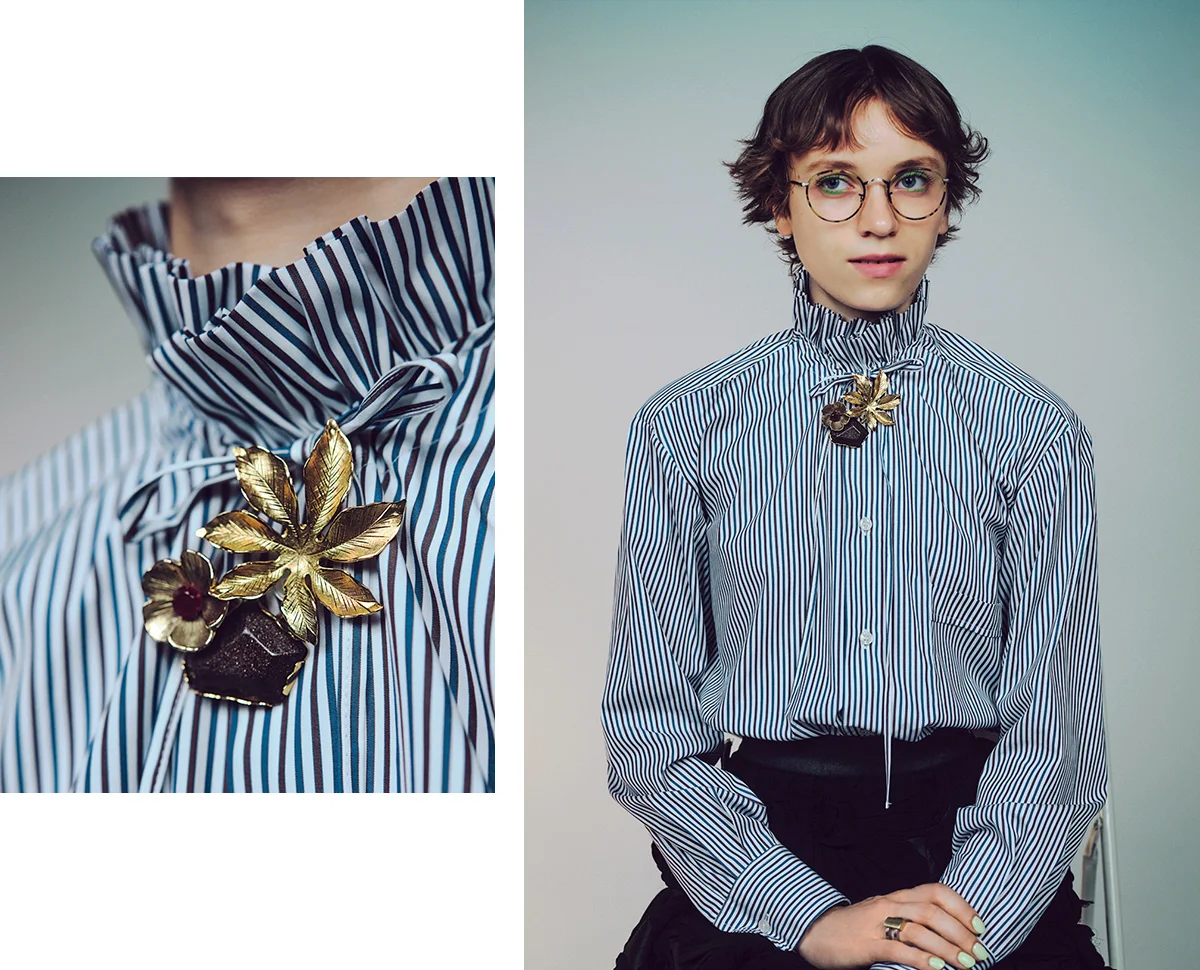 An item that is hard to understand where to put it, how many pieces to put on, and the correct answer. It is important to devise the number and mood for each wear to enjoy it catchy! A little gimmick reveals a new side of the brooch.
One classical type for blouse
Choose a dignified design to make the most of the cute stand-up collar blouse. Just put one around your neck for a classic look. The brooch, which combines antique flower motifs and bijou, has a strong presence even by itself.
Brooch ¥ 30,800 / HPFRANCE (Claudine Vitry) Glasses ¥ 39,930 / Luxottica Japan Customer Service (Oliver Peoples) Ring ¥ 157, 300 / Tom Wood Project (Tom Wood) Blouse ¥ 66,000 / PARA GRAPH CO.LTD. (Plan Sea) Skirt ¥60,500 / United Arrows Roppongi Hills store (Daggett)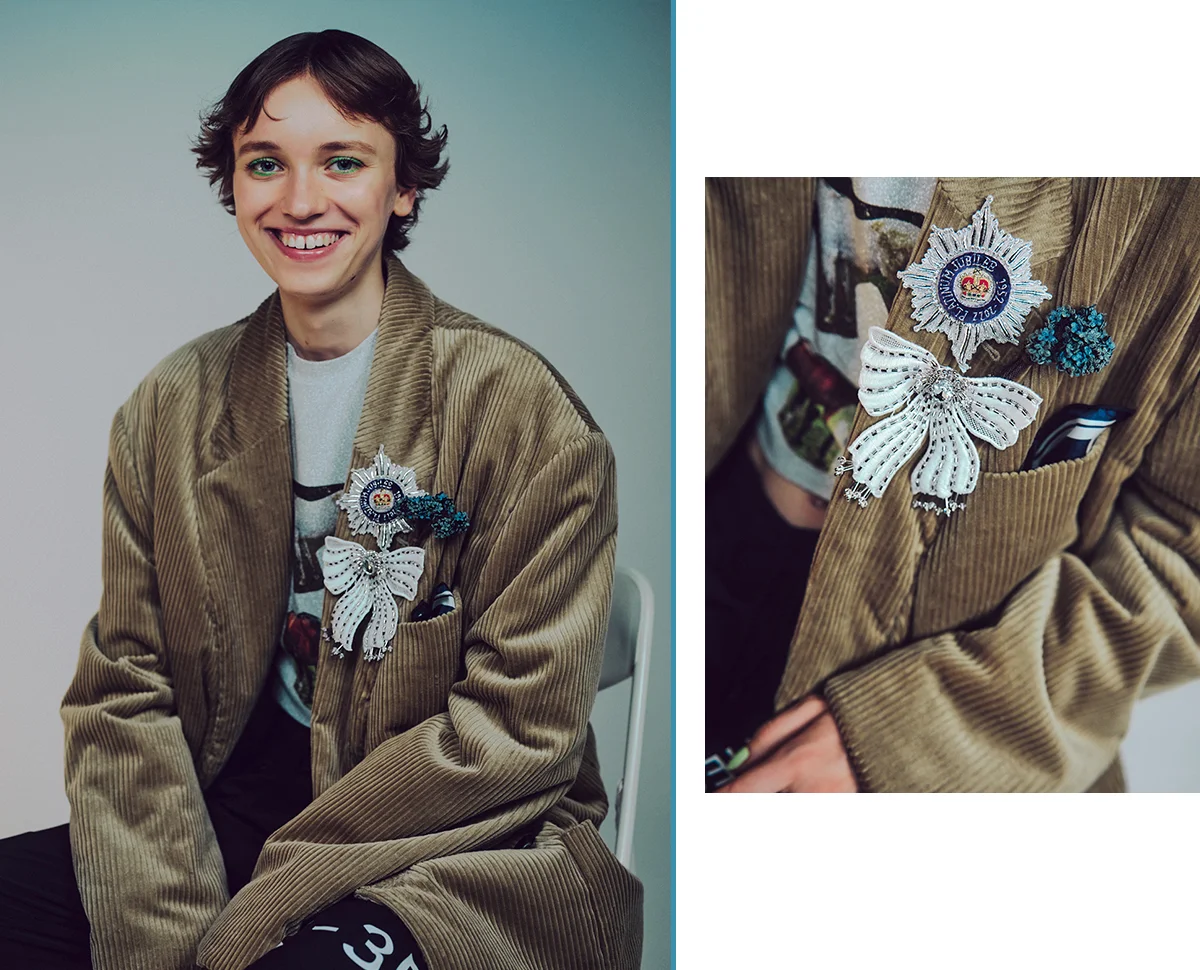 3 craft styles on the jacket
A large brooch with a gentle texture made by bead embroidery and hand-knitting. I dare to put it on a vintage-like jacket and show my wit.
Star Brooch ¥58,300 / Vulcanize London (Hand & Rock) Ribbon Brooch ¥13,200 / Patchworks (Tanaka Daisuke) Bouquet Brooch ¥55,000 / Gallery de Poisson (Junjun) Scarf ¥16,500 / Lee Mills Agency (John Smedley) Jacket ¥158,400 ( Reference price) / Diptrics (Mariano) Tops ¥ 28,600 / Acne Studios Aoyama (Acne Studios) Pants ¥ 26,400 / Case Levy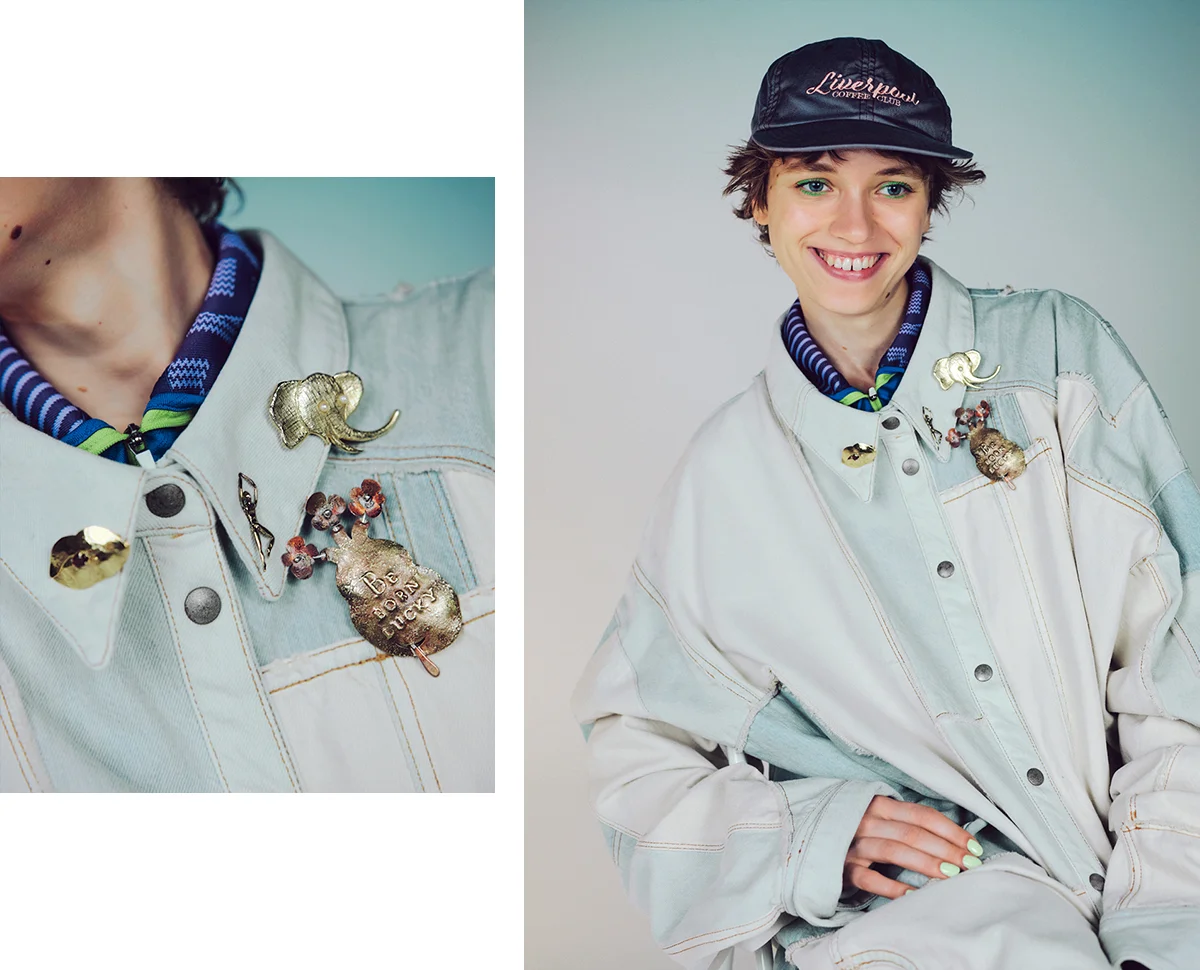 4 surreal things for denim
A brooch with a playful motif can be worn with casual denim. If you attach it to the left and right asymmetrically, it will give a more playful impression.
(From right) Elephant brooch ¥6,380 / Teeny Lunch (Teens Antiques) heart brooch ¥44,000 / SHOTA MINO human-shaped pin brooch ¥8,250 / Mr. It lips brooch ¥38,500 / HPFRANCE (Wotters and Hendrix) hat ¥9,350 / Goonie (Young and Olsen The Dry Goods Store) Denim shirt ¥ 126,500 / Acne Studios Aoyama (Acne Studios) Tops ¥ 13,200 / Lacoste Customer Center (Lacoste)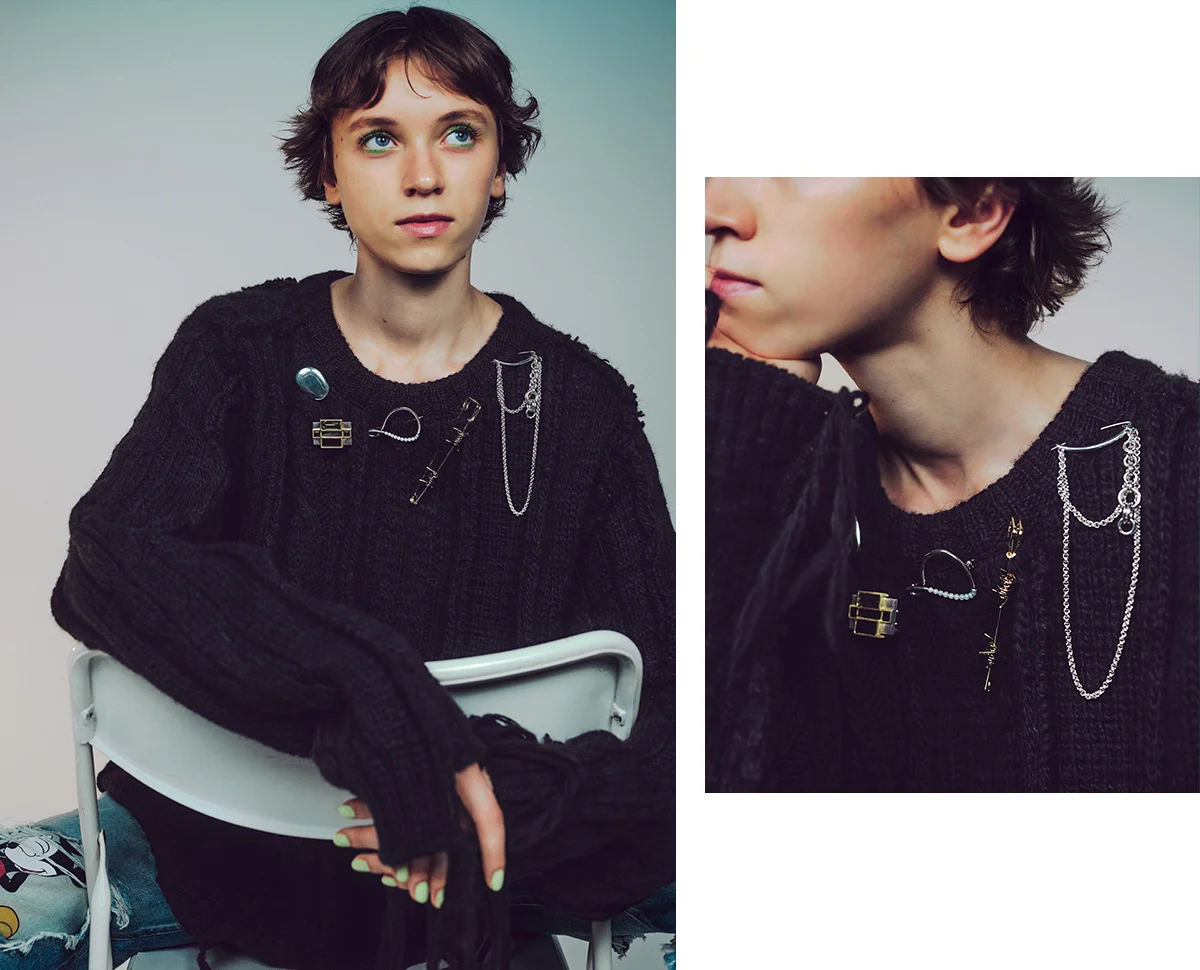 5 or more modern designs for knitwear
Roughly knitted knit that tends to be loose can be decorated around the neck with a solid brooch.
(From right) Chain brooch ¥74,800 (Reference price) / THE WALL SHOWROOM (Ratzel & Wolff) Pin brooch ¥13,200 / International Gallery BEAMS (Malcolm Gale) Pearl brooch ¥30,800 / Martinique Leconte Lumine Yurakucho (Blan Iris) Square brooch ¥61,380 / Tom Wood Project (Tom Wood) Silver Brooch ¥ 29,700 / Ryuk Knit ¥ 104,500 / 4K (Sugar Hill) Pants ¥ 59,400 / Edstrom Office (Foursome One)
RULE.3 Remember 4 new ways to wrap scarves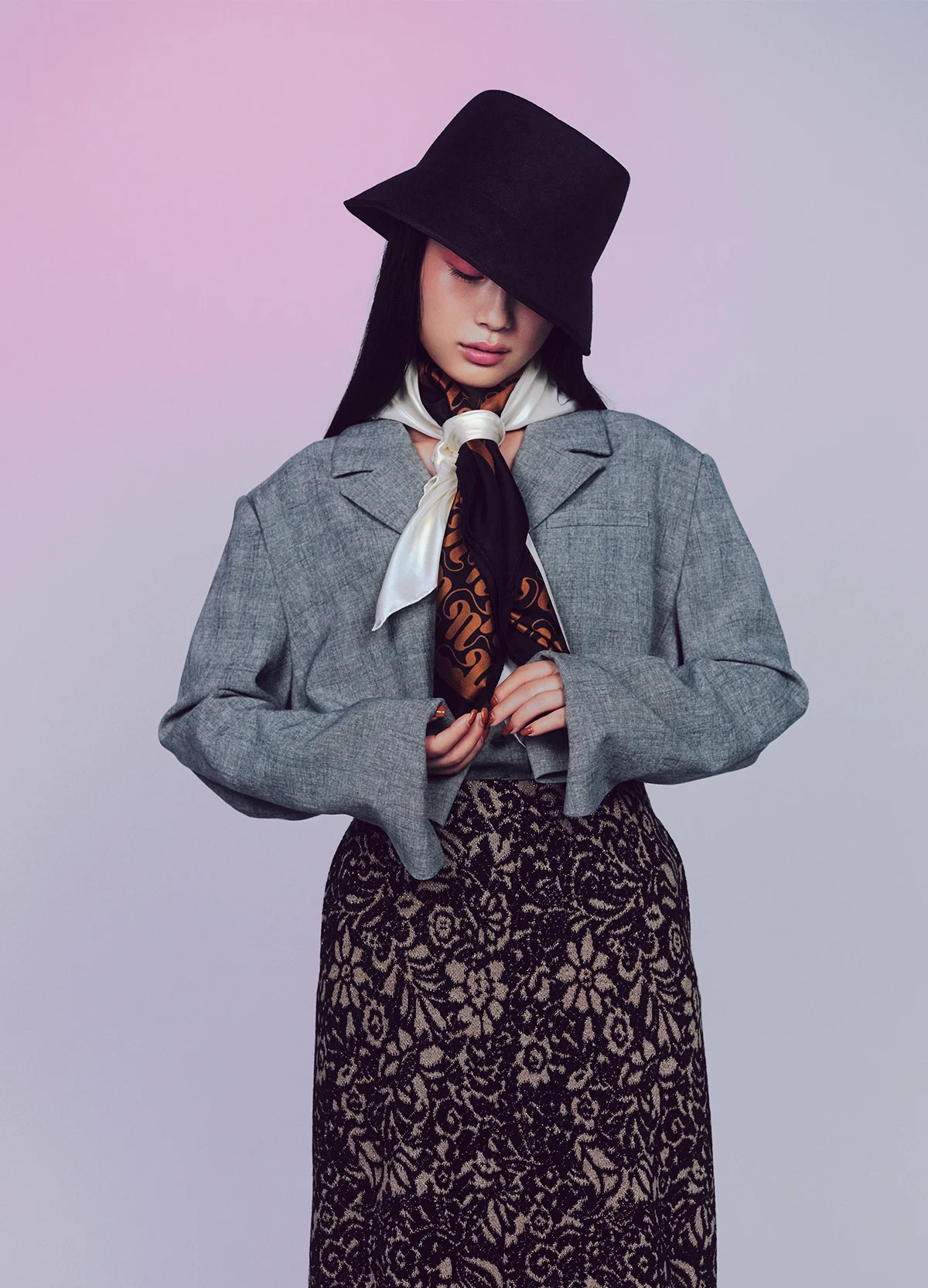 A scarf that will liven up your styling with gorgeous patterns and colors. Depending on how you use it, there is a danger that it will look unfashionable or look old. If you master the easy but not safe way to tie a kimono, your clothes will look different than usual.
Two scarves for a voluminous chest
When your neck is lonely, combine it with a scarf with a different design to liven it up. A bold mix of monograms, checks, and flower motifs can also be worn with a clean white scarf to create a sense of freedom.
How to
Roughly hang two scarves around the neck, starting with the pattern from the inside and then the white. Tie the white scarf around the patterned scarf. We recommend tying the knot on the back of the patterned scarf and tying it twice to prevent it from coming loose. Finish by arranging it so that it draws a beautiful drape.
Patterned scarf <135 x 135 cm> ¥ 40,590 / Hirao Ink (Nanushka) White scarf <76.5 x 76.5 cm> ¥ 23,100 / Lee Mills Agency (John Smedley) Hat ¥ 25,300 / UTS PR (Masakazu Furusawa) Romper-type jacket ¥ 56,100 / Doll ( Fumie Tanaka) Skirt ¥ 26,400 / iQuest Showroom (Tea)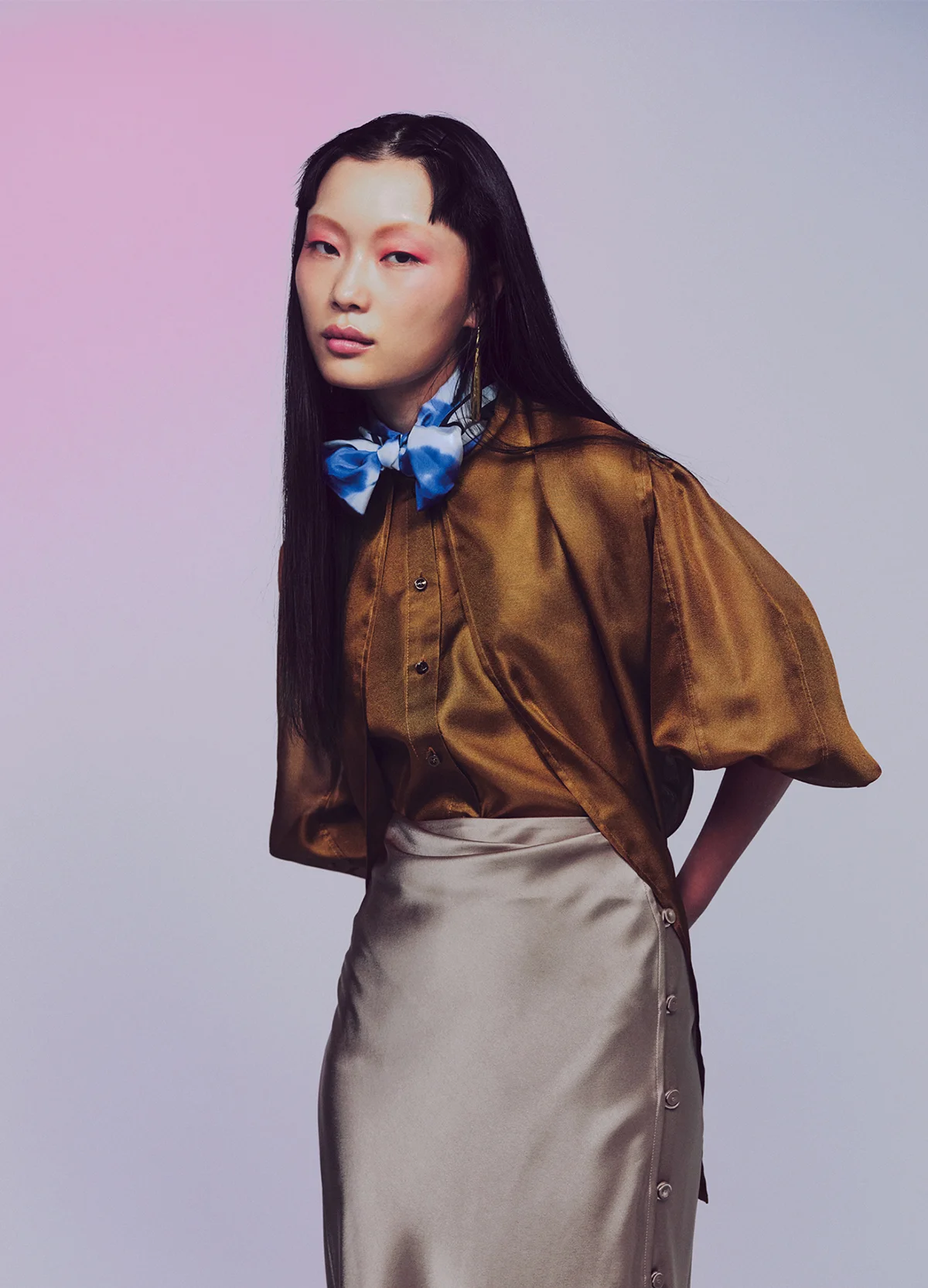 Contrasting bow tie-style ribbon knot
A ribbon scarf is turned on for the blouse that features voluminous sleeves. If you make it compact and have a sharp silhouette, you can achieve a modern style.
How to
Fold it into a thin strip so that it is about 5cm wide. At this time, if you are using a smaller scarf, you can secure the length by folding it into a triangle first. Wrap it around your neck and tie it with a ribbon in front. Wrap the hanging part around your neck to form a bow tie.
Scarf <26 x 125 cm> ¥ 18,700 (reference price) / Showroom Links (Christian Winants) Earrings ¥ 11,000 / UTS PR (Folk by N) Blouse ¥ 16,500 / Ray Beams Shinjuku (RB) Skirt ¥ 82,060 / Hirao Ink (Nanushka)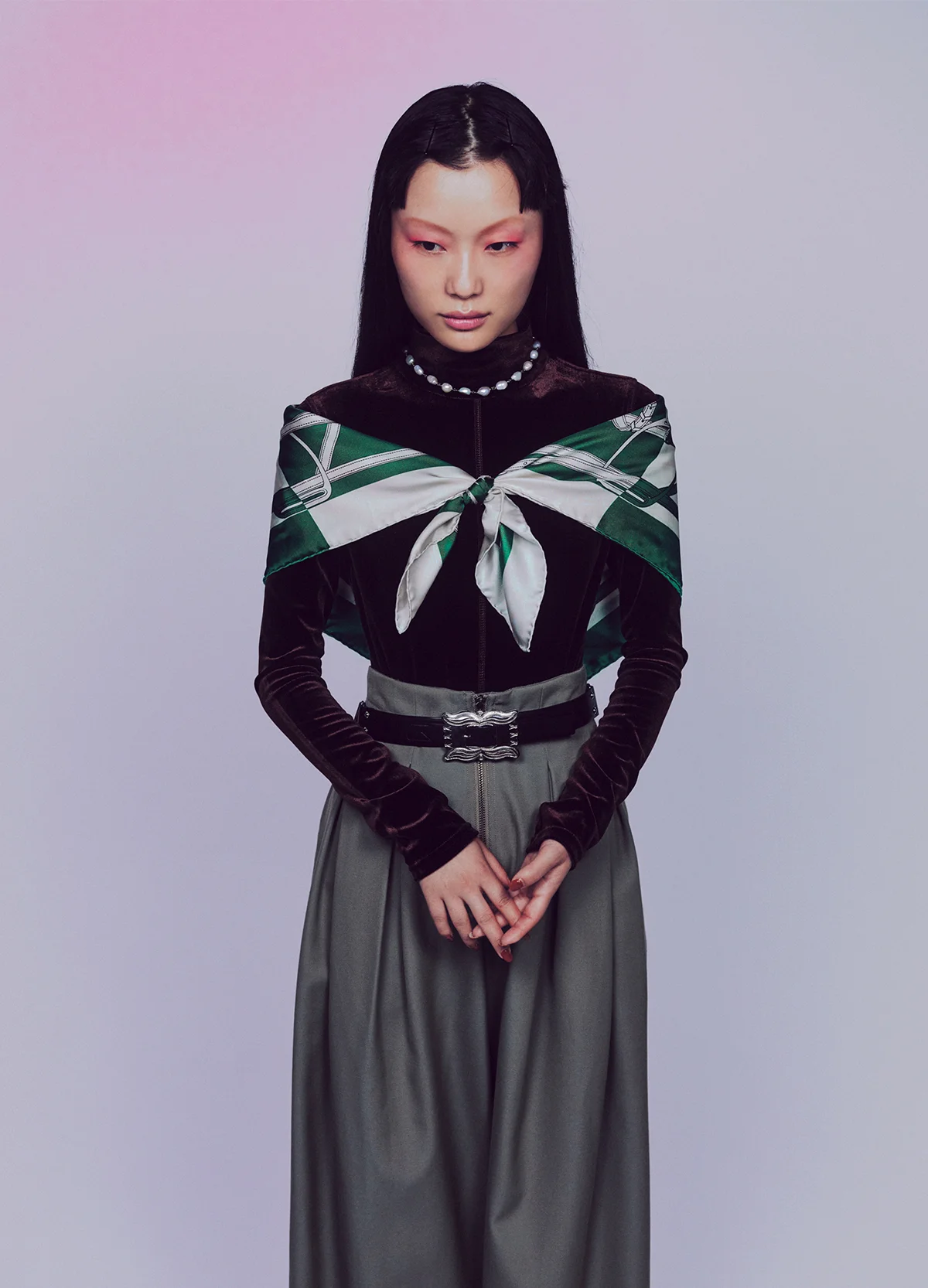 An elegant evolution of sailor-maki
Decorate a high-necked top with a scarf and pearl necklace to make it noble. A solid belt adds a bit of a sharp accent, leading to an exquisite balance.
How to
Fold the square scarf in half to make a triangle. It is worn in an inverted triangle shape and tied twice at the front. It's important to go off-shoulder, as covering the shoulders can make it look a little more authentic. You can create a sensual mood while maintaining dignity.
Scarf <86 x 86 cm> ¥ 19,800 / TOMORROW LAND necklace ¥ 33,000 / UTS PR (Folk by N) Leotard ¥ 23,100 / Edstrom Office (Chika Kisada) Belt ¥ 19,800 / TOGA Harajuku store (Toga Birelese) Pants ¥ 49,500 / alpha PR (Kotona)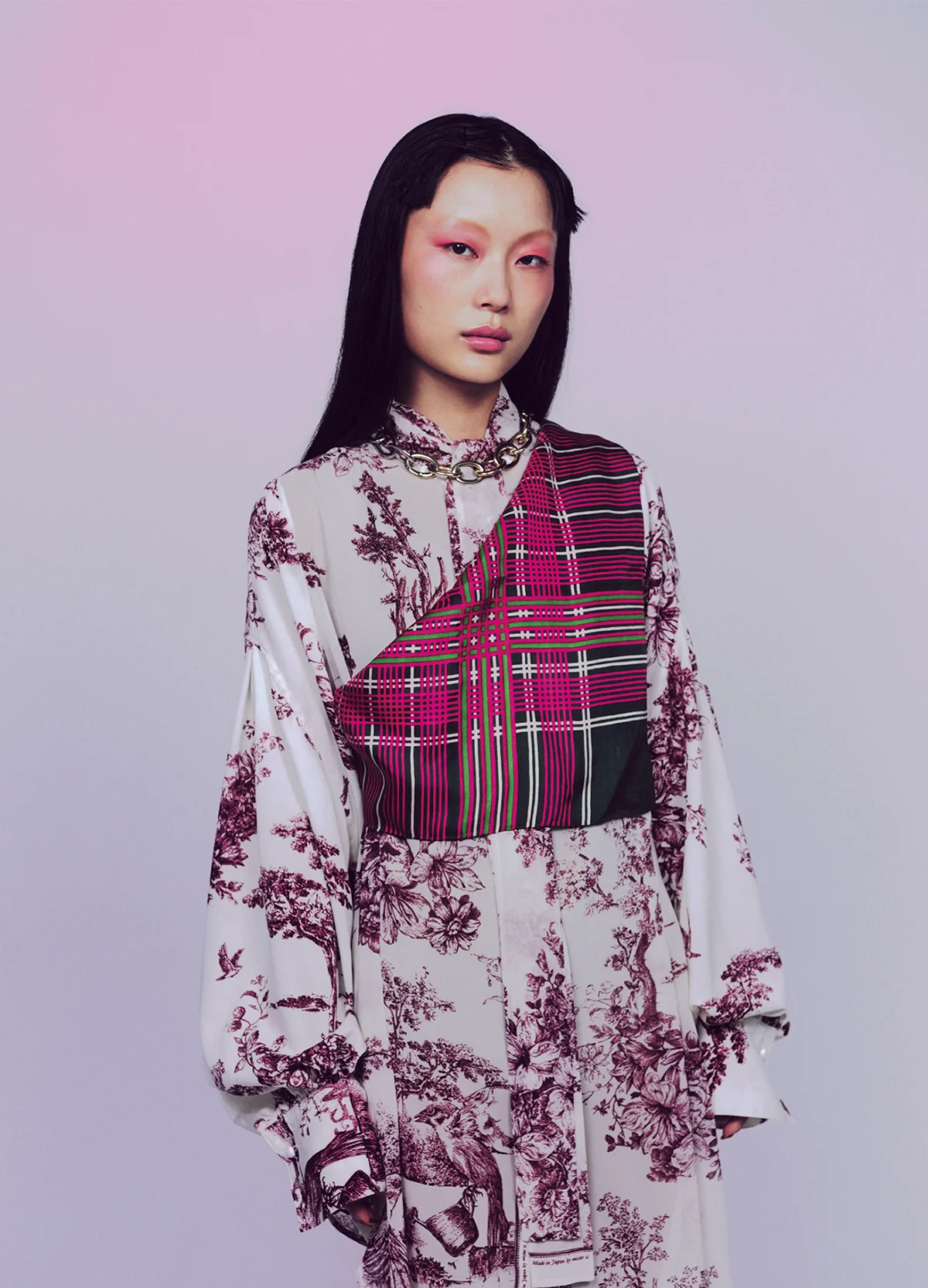 Wear like a one-shoulder top
Layer it over a classic Toile de Jouy-inspired top and a modern check scarf. Combining similar colors creates a sense of unity, giving you a higher-grade styling.
How to
Fold the square scarf into a triangle. Put it on your shoulders so that it is crossed, and tie it twice at the back. The trick is not to tie it too tightly. By making it loose, you can create a straight silhouette without wrinkles on the front.
Vintage scarf <88 x 88 cm> ¥ 28,600 / Martinique Leconte Lumine Yurakucho Bracelet made into a necklace (gold) ¥ 203,500 / (silver) ¥ 152,900 / Tom Wood Project (Tom Wood) Tops ¥ 62,700 / Mr. It
Small picture book to decorate the chest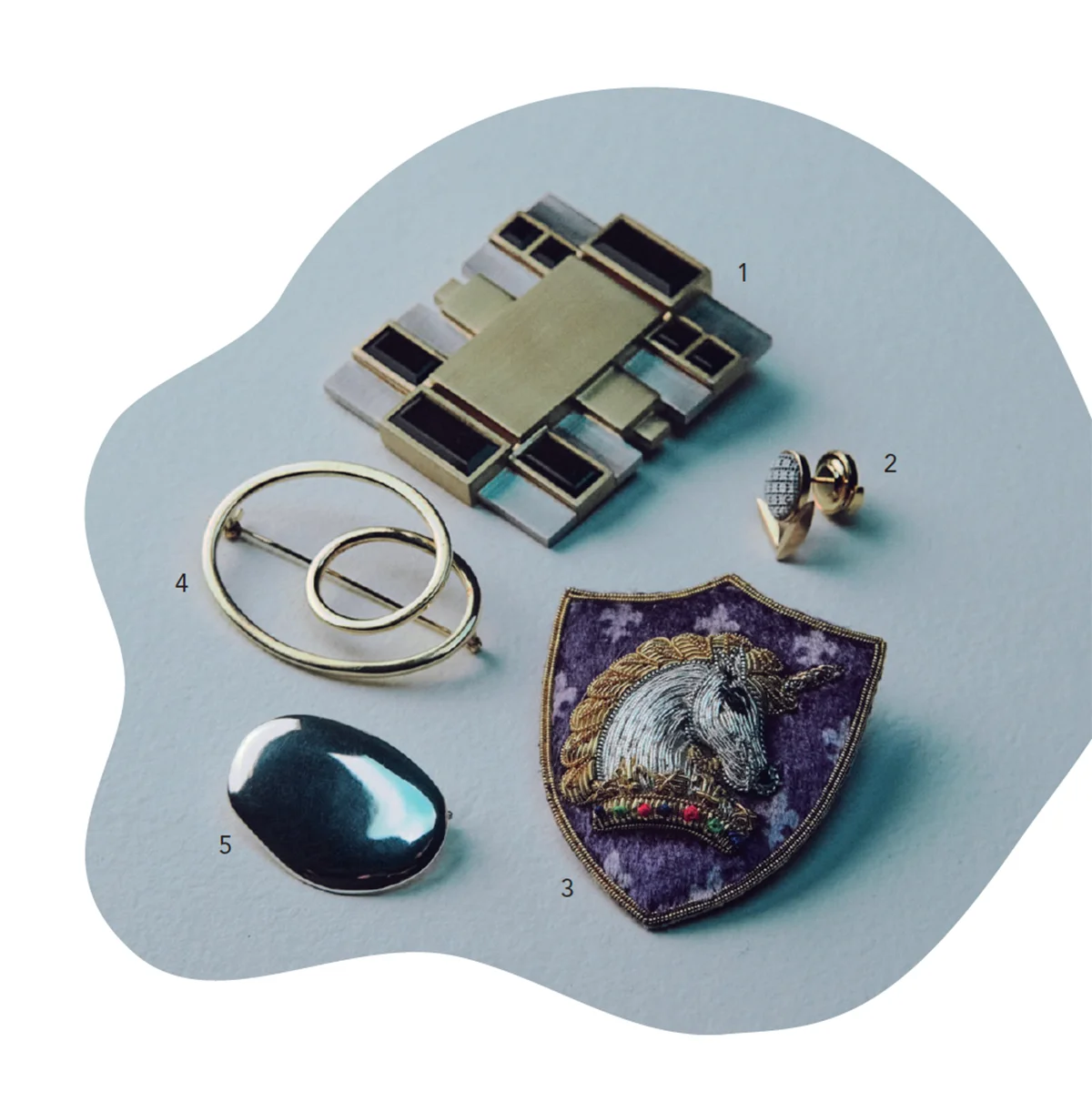 Depending on the accessories, the impression is also phantasmagoric. Why not find a favorite that matches your style and collect it?
B rooch
1The architectural design gives your outfit a modern brush up. It is large and has a presence of the leading role.
Black brooch ¥ 157,410 / Tom Wood Project (Tom Wood) 
2The mini size that fits on the tip of your index finger is adorable. The point that it is easy to match with other brooches is attractive.
Mesh pin brooch ¥ 14,300 / Gallery de Poisson (Fumie Sasaki)
3Silver unicorn embroidery shines on shiny fabric. Wear it around the collar of your jacket for a playful look.
Unicorn brooch ¥ 18,700 / Vulcanize London (Hand & Rock)
FourThe flowing curved form adds a sense of fun while being chic. A versatile player that looks great on its own and can be layered with other items.
Gold brooch ¥ 28,600 / Martinique Leconte Lumine Yurakucho (Bran Iris)
FiveThe bean-like form and smooth texture are eye-catching. I want to enjoy the difference in texture by matching it with a knit.
Silver brooch ¥ 29,700 / Adam et Lope (Ryuuk)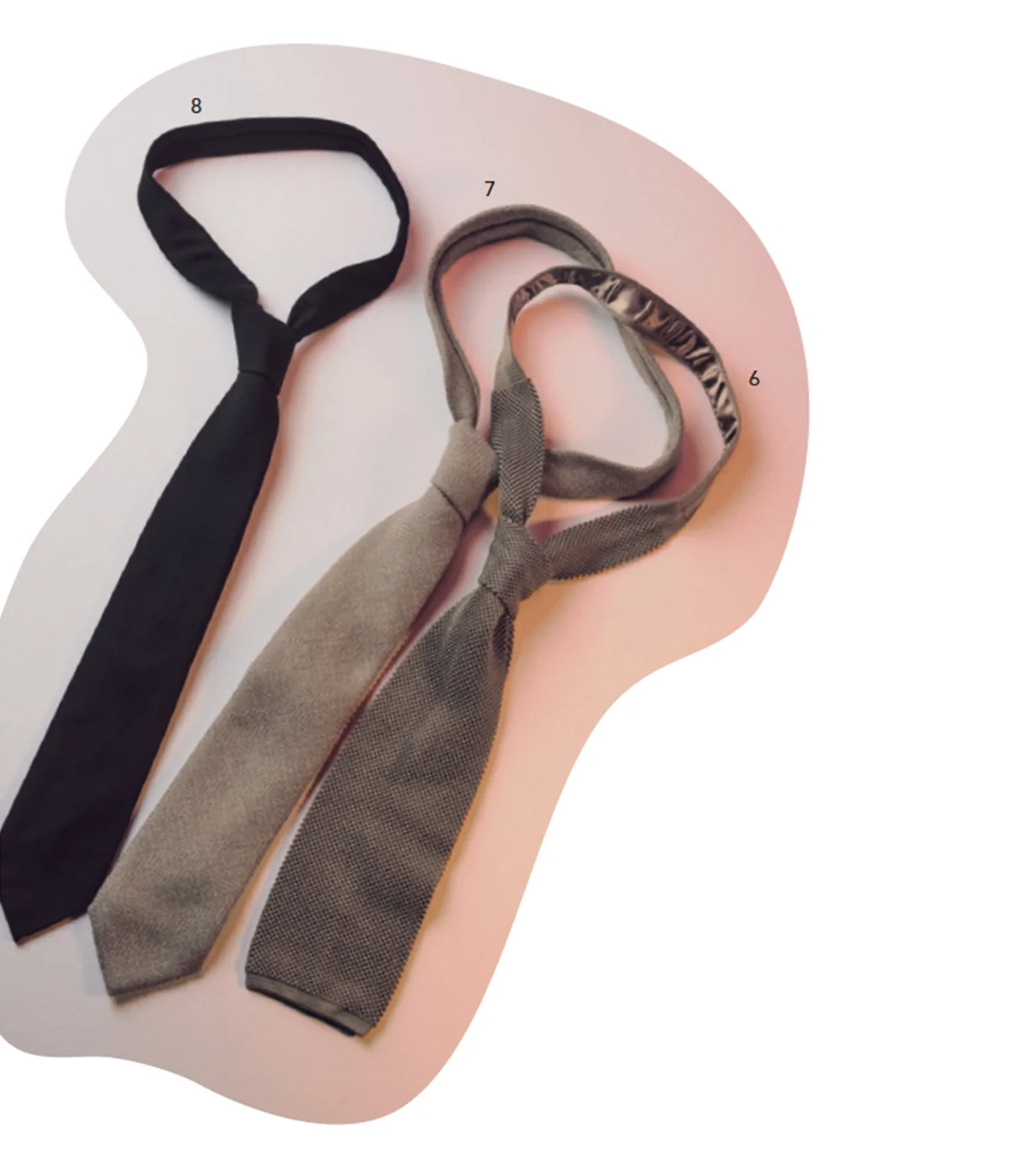 Tie
6Knit ties made of 100% silk with a beautiful soft sheen are perfect for mixing different fabrics together with a cotton shirt.
Beige tie ¥ 12,100 / Nishinoya (dress)
7The warm and thick wool texture makes it a must-have for winter. The natural color makes it easy to match with any outfit, and you can complete a traditional style with just this one.
Beige tie ¥ 19,800 / BEAMS Roppongi Hills (personality)
8A classic tie with a slender silhouette for an elegant look. The minimal and timeless design is easy to use in a wide range of situations, and you want to have one.
Black tie ¥ 18,700 / Isetan Shinjuku (Ardy & Sea 1956 Milan)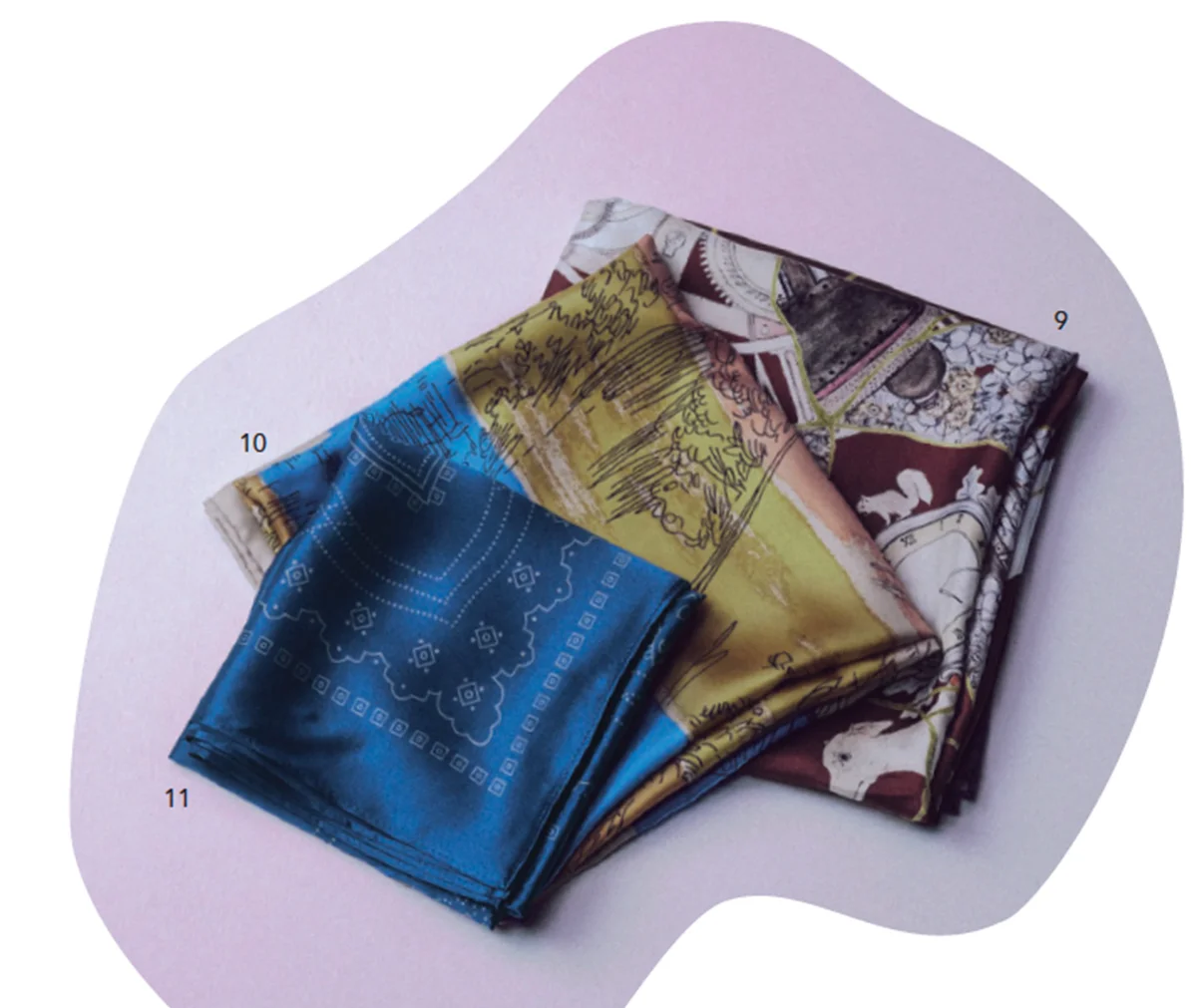 S-carf
9The large scarf can be wrapped around the shoulders or worn on the front, depending on your ideas. The brown-based color makes it easy to match with any outfit.
Brown scarf <90 x 90 cm> ¥52,800 / UTS PR (Swash London)
TenEnjoy the vivid contrast of yellow and blue. Whether you wear it around your neck or over your shoulder, it will definitely work as an accent color. A pattern like Toile de Jouy brings together the coordination elegantly.
Blue yellow scarf <88 x 88 cm> ¥ 17,600 / Manipuri
11For smaller sizes, tie tightly around the neck. The bandana-like pattern goes well with casual items such as denim jackets.
Blue scarf <62 x 65 cm> ¥ 11,000 / Eliopole Daikanyama (Eriopole)
Source link