Sports
A must-see for high school and college students who love sports and are interested in sports-related work! Shibuya Sports Academy 3rd term starts on October 7th: current affairs dot com
[General Incorporated Association Shibuya Mirai Design]
Powered up from last year, this year is a 5-month sports producer experience full of practical training
Shibuya Mirai Design, a general incorporated association (Representative Director: Hideki Koizumi, hereinafter referred to as Shibuya Mirai Design) collaborates with GAKU, a new creation school for teens operated by Logs Co., Ltd. (President: Yuta Takeda). Then, Shibuya Sports Academy Phase 3 will start on October 7, 2022 (Friday).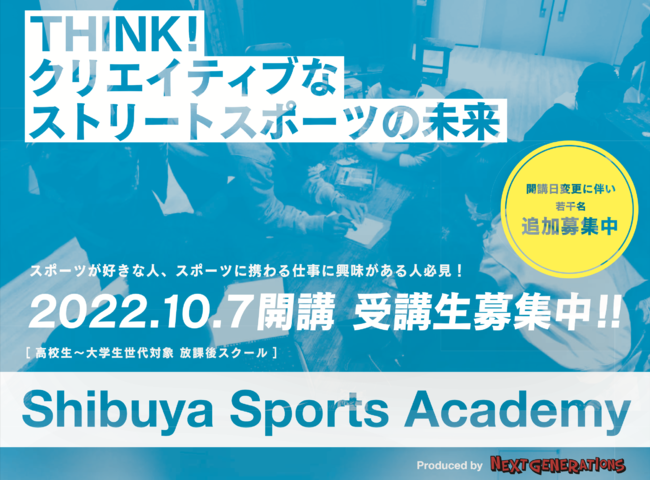 In 2020, the next-generation sports scene promoted by Future Design Shibuya is based on the idea that "street sports, where many young people in their teens and 20s are active, should also shine on the side that supports them." It was launched by the creative project "Next Generations".
This unique initiative has been highly evaluated not only by the street sports scene, but also by the companies and organizations that support the sport, and it has been decided that the course will be held on September 9th this year as well. This year, the course period has been extended from 3 months last year to 5 months, and the class time per lecture has also been expanded to 120 minutes. In terms of the content of the lectures, we will provide opportunities for real learning and creative experiences that cannot be obtained from classroom lectures, by collaborating more closely and more frequently with future projects such as Shibuya Future Design and the Next Generations Project.
As with last year, we will set the theme for each lecture, and guest experts who are active at the forefront of each field such as "planning", "public relations", "management", "brand", "team", "management", and "SDGs" that support sports. Invited as a lecturer, this year we will have more time for workshops and discussions with guest lecturers. Provide students with valuable opportunities. We aim to develop human resources who can create and support the future sports scene by coming up with their own plans based on various inputs and implementing them as "sports producers."
In recruiting students, priority will be given to athletes, and in course management, members who attended last year's course will participate as mentors, fostering horizontal and vertical connections. It provides value that cannot be learned in school classes. Detailed information such as curriculum and schedule, information on guest lecturers and how to apply will be announced on the Next Generations official website. We look forward to your continued attention this year.
-Overview of Shibuya Sports Academy 2022-
Start date: October 7, 2022 (Friday) to March 10, 2023 (Friday) All 27 classes planned including practical training
Time: Friday 17:30-19:40
Location: GAKU (15-1 Udagawa-cho, Shibuya-ku, Tokyo Shibuya PARCO 9F)
Target: High school students to college students
Capacity: 15 people (including 5 athlete priority slots)
* Accepted on a first-come-first-served basis regardless of the application form of "full year" or "first term only".
*Those who apply for "first semester only" will be given priority until the end of November to accept applications for "second semester".If there is a vacancy in the capacity
We are accepting applications for "only the second semester".
Fee: Free
Eligibility:
Students must be able to bring their own devices, such as smartphones, tablets, and personal computers, to classes and attend lectures at designated times and locations.
important point:
*If the athlete priority quota does not reach the capacity within the specified period, the course application will be brought forward.
*If the student cannot attend GAKU for some reason, it is possible to take the course online, but it is not possible to take the course online only.
* Under no circumstances is it possible to transfer the eligibility to attend the course to a third party.
*Students who have done anything that is disadvantageous to Shibuya PARCO, GAKU, Shibuya Mirai Design, or "Shibuya Sports Academy", such as damaging equipment/equipment, interfering with classes, slandering instructors, interfering with sales, etc. may be expelled from the school at the discretion of the secretariat.
Application start date: Applications are being accepted on a first-come, first-served basis
Details of the course, such as the curriculum, schedule, and how to apply, can be found on the Next Generations official website.
https://www.nextgenerations.jp/projects/academy22/
Management: Future Design Shibuya / Next Generations Executive Committee / GAKU
Support: The Nippon Foundation
Sponsors: KDDI Corporation / GoPro LLC / Shibuya Television Co., Ltd. / Tokyu Corporation / Tokyu Land Corporation
Supported by: Shibuya City / Shibuya City Board of Education
Management cooperation: Sports Biz Co., Ltd. / OVER THUMPZ Co., Ltd.
Inquiries: Shibuya Sports Academy Secretariat (inside Sports Biz Co., Ltd.) Hata
Email info@nextgenerations.jp
In the second period, which was held for about three months from September 2021, the input necessary for the realization of the sports event was implemented in the first half period. Divided into three workgroups, they exchanged ideas to work on at the U-15 street sports festival "Next Generations Games 2021" and challenged to propose a plan in front of the professionals who support each Next Generations project. Based on various feedback, we further evolved the plan, and realized the plan that we created from scratch at the actual event venue.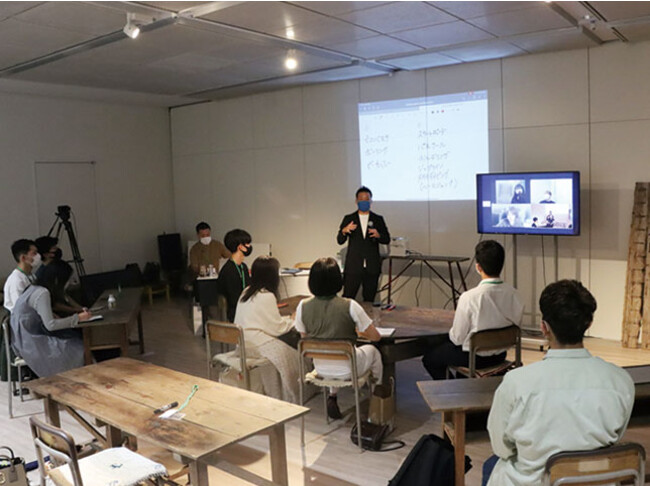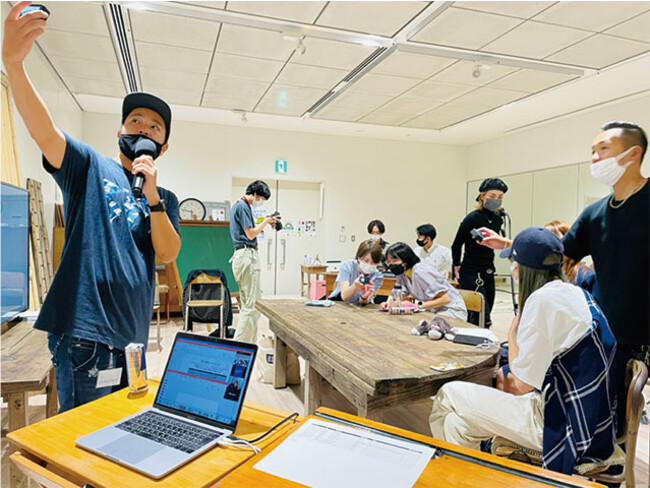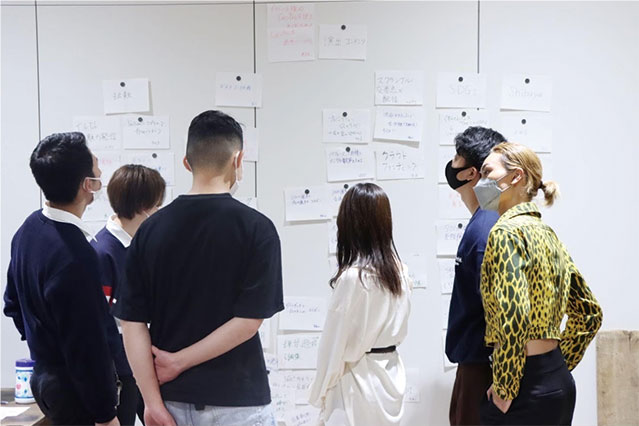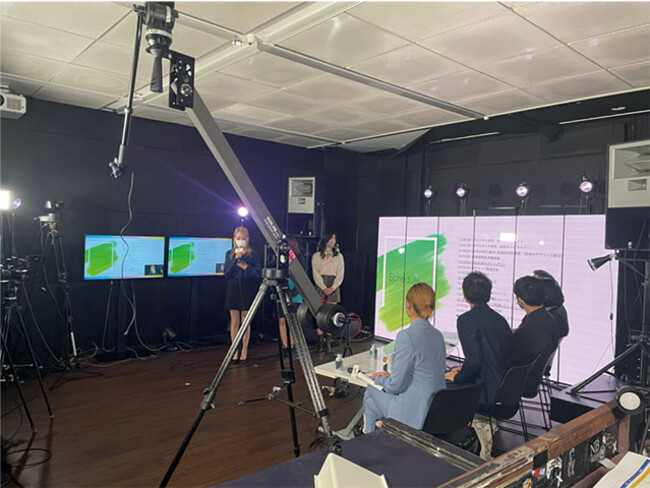 About Future Design Shibuya
Based on diversity and inclusion, Future Design Shibuya collects the ideas and talents of the diverse people who gather in Shibuya, such as those who live, work, learn, and visit Shibuya, transcending boundaries, and contributes to society through open innovation. It is an industry-government-academia-citizen collaboration organization that designs solutions and possibilities for global issues. By presenting Shibuya to the world as a new possibility of urban life, we aim to lead to the sustainable development of not only Shibuya Ward but also society as a whole.
Future Design Shibuya https://www.fds.or.jp
About Next Generations
Focusing on the "next generation" that will expand the possibilities of Shibuya and the city, the "next generation" will "encounter" sports, "learn" from sports, create a place to "shine" with their favorite sports, and be proud. This is a "next generation" sports scene creation project launched in 2018 through industry-government-academia-civil collaboration to design a city that has Shibuya, the epicenter of fashion and culture, is also a city where our predecessors pioneered street sports and their culture. We aim to recreate a place (playground) that has been lost with the development of the city, promote street sports and enlighten people on manners, foster a sports culture that is unique to Shibuya, and revive it as "Shibuya = Mecca for street sports".
Next Generations https://nextgenerations.jp
Instagram https://www.instagram.com/nextgenerationsjp/
Official YouTube Channel https://www.youtube.com/channel/UCAZs1wIlh7wTC0qdlcA4lIA
About GAKU
GAKU, a new creative school for teenagers
Yoshikazu Yamagata, representative of the fashion design school Kokono Gakko, which has produced many world-famous creators, is appointed as director, and as a place for creative education for teenagers, music, architecture, food, fashion, design, art, etc. Deploy a wide variety of classes. The instructors are "genuine" creators who are active both in Japan and overseas. Through trial and error with unknown beings, we aim to confront our own sensibilities and thoughts and cultivate a rich spirit.
GAKU https://gaku.school/
Twitter https://twitter.com/gakuschool
Instagram https://www.instagram.com/gaku.school/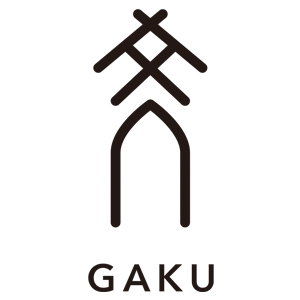 Company press release details (2022/09/16-22:47)