Fashion
NIKKEI STYLE Men's Fashion × MEN'S EX co-sponsored "SUITS OF THE YEAR 2022" Award ceremony will be held for the 5th time this year!
[Shochiku Navi Co., Ltd.]
Date: Thursday, November 17, 18:30-Scheduled Sponsors: Azabu Tailor, Grand Seiko, Scabal, Les Muse, Vitale Barberis Canonico, etc.
Focus on "Well-being" now that real movement has returned!
Suit of the Year 2022 thinks
What are "Well-working", "Well-moving", and "Well-sharing"?
moreover! This year, we invited customers to the venue for the first time in three years,
We will be holding a hybrid with online distribution!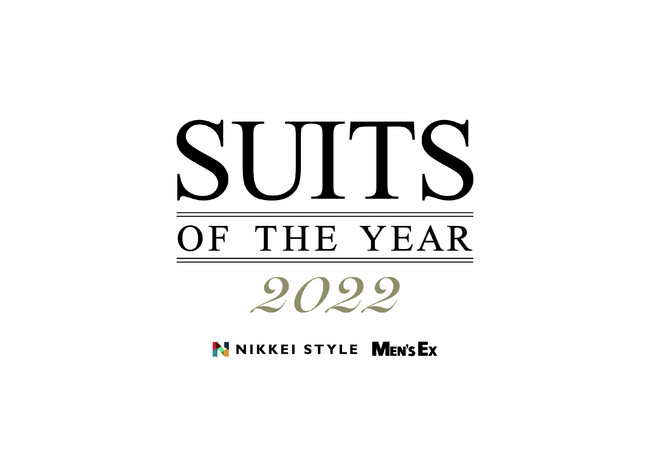 Continuing from last year, on November 17, 2022 (Thursday), Nikkei N Brand Studio "NIKKEI STYLE Men's Fashion" and Begin Co., Ltd. "MEN'S EX" will co-sponsor business and challenge with passion in their own fields. It has been decided that "SUITS OF THE YEAR 2022" will be held to honor people with talent and aspirations who will change the times.
Every year, based on the concept of the time, people who are active in various fields such as business, innovation, sports, arts and culture, and entertainment are selected and awarded in multiple categories.
Started in 2018, last year it was held in a shooting environment with thorough measures against infectious diseases, with two media systems, YouTube Live and Instagram Live.
This year, we will invite customers to the venue for the first time in three years and hold it in a hybrid form combined with online distribution. In 2022, society's measures against infectious diseases have evolved, and the way individuals deal with them has changed.
With the shift from online to face-to-face, business systems are gradually returning to normal, and business trips and travel are gradually resuming. and meaning are questioned.Pursuing meaningful "Better" in terms of work style and work purpose"Well-working"experience, knowledge, and excitement gained by moving again"Well-moving"sharing fun, novelty, and valuable things, including things, things, and information"Well-sharing".This year, the 5th time, the new values"Well-being"is defined as "SUITS OF THE YEAR".
As the world begins to move again, people are demanding the value and meaning of "well-being" in both their work and their lives, and the action is accelerating. Under the slogan of "suits, more well", this year's awardees, who continue to challenge themselves for the future, will be presented in formal suits at the awards ceremony.
In this era where the way of life has changed, who will be selected from the four categories of[Business Category][Innovation Category][Sports Category]and[Art Culture Category]this year?
The award ceremony on November 17th (Thursday) is a hot topic.
and! Continuing from last year, for this award ceremony,"NIKKEI STYLE Men's Fashion" Editor-in-Chief Waka MatsumotoWhen,"MEN'S EX/MEN'S EX ONLINE" Chief Editor Kanae Hirasawacomments have arrived!
=================
◆ "NIKKEI STYLE Men's Fashion" Editor-in-chief, Waka Matsumoto
In "SUITS OF THE YEAR 2022", we will award people who have shown remarkable achievements in various fields. Please listen to the enthusiastic messages sent by the awardees, who give us a glimpse of the future.
Please pay attention to the suits worn by the winners. Considering each person's needs and personality,
A suit tailored by the manufacturer with all your heart will highlight the splendor of the person.
A suit has a story. I would be happy if you could feel that.

1968 Born in Hokkaido. Graduated Waseda University in 1992 and joined Nihon Keizai Shimbun.
After serving as deputy general manager of the corporate news department and as an editorial committee member, he assumed his current position in April 2019. He covers a wide range of fields, mainly fashion and consumption.Co-authored "30 years of Heisei connecting to Reiwa", "Clothing design for 100 million people", etc.

"NIKKEI STYLE Men's Fashion" is a digital media that provides immediately useful content such as on-off attire for business people, wristwatches, celebrities' dressing techniques, etc. under the theme of "When fashion changes, so does business." Jointly operated by Nikkei Inc. and Nikkei BP, "NIKKEI STYLE" is a lifestyle site that brings together the know-how of editing newspapers and magazines.
[Site URL]https://style.nikkei.com/fashion/
=================
◆"MEN'S EX/MEN'S EX ONLINE" Editor-in-Chief, Kanae Hirasawa
The communication between society and people, which has been divided by Corona, has returned little by little.
In such a way, I think that suits are necessary for humans to live in society. The 2022 award winners have also made their suits their power while contributing and influencing society. Through this award, I would like you to feel the message of the future and the power of the suit.

Born in 1977. He joined Sekai Bunkasha in 2000, became editor-in-chief of "MEN'S EX ONLINE" in 2017, assumed his current position in September 2020, and concurrently served as editor-in-chief of "Watch Begin" in April 2022.
He has about 7,000 followers on Instagram and has a wide range of overseas connections, including Italy.
<MEN'S EX/MEN'S EX ONLINE>
Twenty-nine years after its launch, as a "fashion bible" for business people, it pursues styles and how-tos that "look neat" from work to holidays. It is a general men's magazine that answers the "Wants" of
[Site URL]https://www.mens-ex.jp/
=================
\What is SUITS OF THE YEAR?/
Nihon Keizai Shimbun N brand studio "NIKKEI STYLE Men's Fashion" and Begin Co., Ltd. "MEN'S EX" co-sponsored "Take on challenges with passion in business and your own field, and have the talent and will to change the times." An award that recognizes people.
Based on the concept of "Wearing challenges = SUITS", people who are active in various fields such as business, innovation, sports, arts and culture, and entertainment will be selected and awarded in multiple categories.
[Special site]https://ps.nikkei.com/soy/
▼△▼△▼△▼△▼△▼△▼△▼△▼△▼△▼△▼△▼
[1st "SUITS OF THE YEAR 2018" Winners]

Takashi Sawada (President and CEO, FamilyMart Co., Ltd.)
Shinichiro Kai (CEO, Folio Inc.)

Yutaka Matsuo (Specially Appointed Associate Professor, Graduate School of Engineering, The University of Tokyo)

Kosuke Hagino (Men's Swimming)

Kei Tanaka (actor)
[2nd"SUITSOFTHEYEAR2019"winners]

Sarah L. Casanova (President and CEO, McDonald's Holdings Japan, Ltd.)
Masaru Matsumoto (CEO of VISITS Technologies Inc.)

Mareki Homma (Professor/Director, Mizusawa VLBI Observatory, National Astronomical Observatory of Japan)

Masao Kusakari (Actor)
Masashi Hirao (bonsai master)

Toshiaki Hirose (former captain of the Japan national rugby team)
[The 3rd "SUITS OF THE YEAR 2020" winners]

Kohei Takashima (President and CEO of Oisix Ra Daichi Co., Ltd.)
Michihiko Iwamoto (Chairman of Japan Environmental Design Co., Ltd.)
* Mr. Kohei Takashima's "high" is "ladder".

Hiroaki Miyata (Professor, Department of Health Policy and Management, Keio University School of Medicine)

Tomoa Narasaki (professional free climber)
*Tomoa Narazaki's "Nara" is correctly "So" for "eight" and "Tatsuzaki" for "Saki".

Honami Suzuki (actor)
[The 4th "SUITS OF THE YEAR 2021" winners]

Genichi Tamatsuka (President and CEO of Lotte Holdings Co., Ltd.)
Mitsuru Izumo (President and CEO, euglena Co., Ltd.)

Hayato Doji (President and CEO, DOYA Co., Ltd.)

Maki Takada (Basketball player/2021 Japan Women's National Team, member of Denso Iris)
*Maki Takada's "High" is "Ladder".

TOKIO (Shigeru Joshima, Taichi Kokubun, Masahiro Matsuoka)
*The titles of past winners are those at the time of the award.
▼△▼△▼△▼△▼△▼△▼△▼△▼△▼△▼△▼△▼
Company press release details (2022/09/21-08:46)
Source link