Entertainment
HK Hero Entertainment starts recruiting CBT for "Sangoku Gokusen"! Official website opened Lottery campaign being held on official Twitter | gamebiz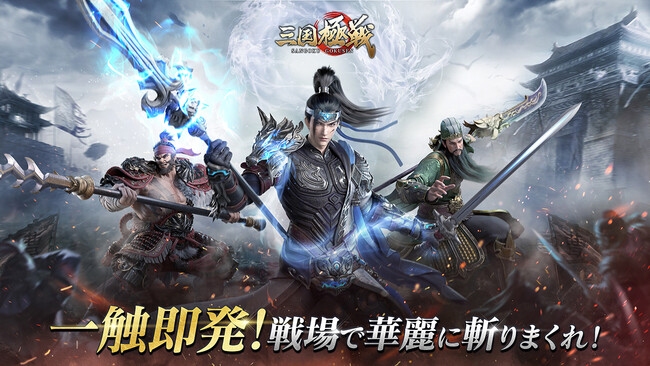 HK Hero Entertainment (Hong Kong) has started accepting applications to participate in the closed beta test of the Sangokushi action RPG "Sangoku Gokusen" (iOS version, Android version) scheduled to be released in 2022 from September 22nd.
◆ What is "Sangoku Gokusen"?
A Romance of the Three Kingdoms action RPG developed by HK TAIHE INTERACTIVE LIMITED and published by HK Hero Entertainment.Started distribution overseas ahead of time, and both the iOS and Android versions ranked within the top 10 in the app store rankings.Ranked in.

This work realizes high-level 3D graphics on smartphones, and realistically reproduces the world view of Sangokushi. You can enjoy powerful images as if you were watching a movie. The player becomes one of the three kingdoms warlords, and while reliving the various stories of the Three Kingdoms, you can experience the exhilaration of clearing the enemy forces with full-scale action.
Recruitment of closed beta test participants started
"Sangoku Gokusen" is scheduled to conduct a closed beta test (CBT) for the purpose of game balance adjustment and server load verification on the following schedule. Recruitment of participants started on Thursday, September 22nd.Let's participate in order to further improve quality for the official service start.
■ Recruitment period:
September 22, 2022 (Thursday) 11:30 to September 27, 2022 (Tuesday) 22:00
■ CBT implementation period:
September 29, 2022 (Thursday) 12:00 to October 6, 2022 (Thursday) 12:00
■ Recruitment number:
5,000 (Android: 5,000)
*If there are more applications than the number of applicants, participants will be decided by lottery.
* After the application period ends, we will contact the winners by email.
■ How to apply:
Please check the notes and terms of use of CBT and apply from the "application form" on the CBT special site.
Click here to apply ↓
https://sangoku-gokusen.com/cbt/
◆ "Sangoku Gokusen" official website opened & lottery campaign to win luxurious prizes is underway on official Twitter!
The official website of "Sangoku Gokusen" is currently open and open to the public. We send the latest information about this work such as pre-registration and official release.

In addition, on the "Sangoku Gokusen" official Twitter account (@Sangoku_Gokusen), in addition to introducing and announcing the game, a Twitter campaign to win luxurious prizes is also underway.
(C)HK HERO ENTERTAINMENT CO., LIMITED. ALL RIGHTS RESERVED.
Source link