Sports
Over 80% of sales positions are women! Why are Ecolocity employees able to shine? ~Pink Ribbon Movement~|Sports for Social
Every October is Pink Ribbon Month. Awareness-raising activities aimed at early detection and early treatment of breast cancer are being carried out on a global scale.
This time, we are providing about 4,300 parking lots mainly in the city center, and Masaru Inoue, President and CEO of Ecolocity Co., Ltd. (hereinafter referred to as Ecolocity), an official supporter of the "Japan Breast Cancer Pink Ribbon Campaign". Mr. (hereinafter referred to as Inoue), Kana Ideue (hereinafter referred to as Ideue) who works as the sales department chief manager at Ecolocity, and Ms. Ikumi Sugihara (hereinafter referred to as Sugihara) who is the sales department manager. We asked him about his thoughts on supporting the Pink Ribbon Movement and the company environment where female employees can play an active role.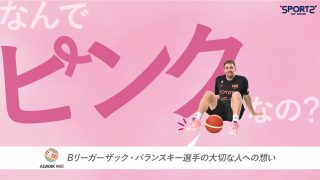 "Why is it pink?" B Leaguer Zack Baranski's thoughts on his loved onesEvery October is "Pink Ribbon Month". It's time for global breast cancer awareness. Zack Baranski (hereafter, Zack), who belongs to the Men's Professional Basketball B League Alvark Tokyo, wears pink basketball shoes every October to let more people know about the Pink Ribbon Movement. . This time, we interviewed Zach about why he started wearing pink basketball shoes and his thoughts on the Pink Ribbon Movement. …
This is because the company has many female employees.Significance of Supporting the Pink Ribbon Movement
ーーEcolocity Co., Ltd. is an official supporter of the Japan Breast Cancer Pink Ribbon Campaign.
Inoue)I knew about the Pink Ribbon Movement and that October was Pink Ribbon Month through TV and other means. Among them, Ecolocity had a very high percentage of female employees in sales positions, soI want to contribute to society as well as to my employeesThat's why I started sponsoring.
ーーAre there any activities related to the Pink Ribbon Movement?
Inoue)The company bears the cost of breast cancer examinations for female employees so that employees can feel free to undergo examinations. In fact, almost all female employees undergo breast cancer screening.
ーーI heard that about 80% of your sales staff are women at Ecolocity. I think that the ratio is quite high, but why is the ratio of female employees so high?
Inoue)Until now, Japan has been a so-called "male society," and I myself felt very uncomfortable with that.That's why"I want to eliminate the bias of 'because I'm a man' or 'because I'm a woman,' and provide an environment where people who want to take on challenges can challenge themselves."I thought. When we proceeded with hiring sales staff with the idea of ​​"if there is enthusiasm," the number of female employees naturally increased as a result. In fact, most of our employees are mid-career hires with no sales experience to begin with, but since many of them joined the company in this way, I think Ecolocity has an environment that makes it easy to take on challenges.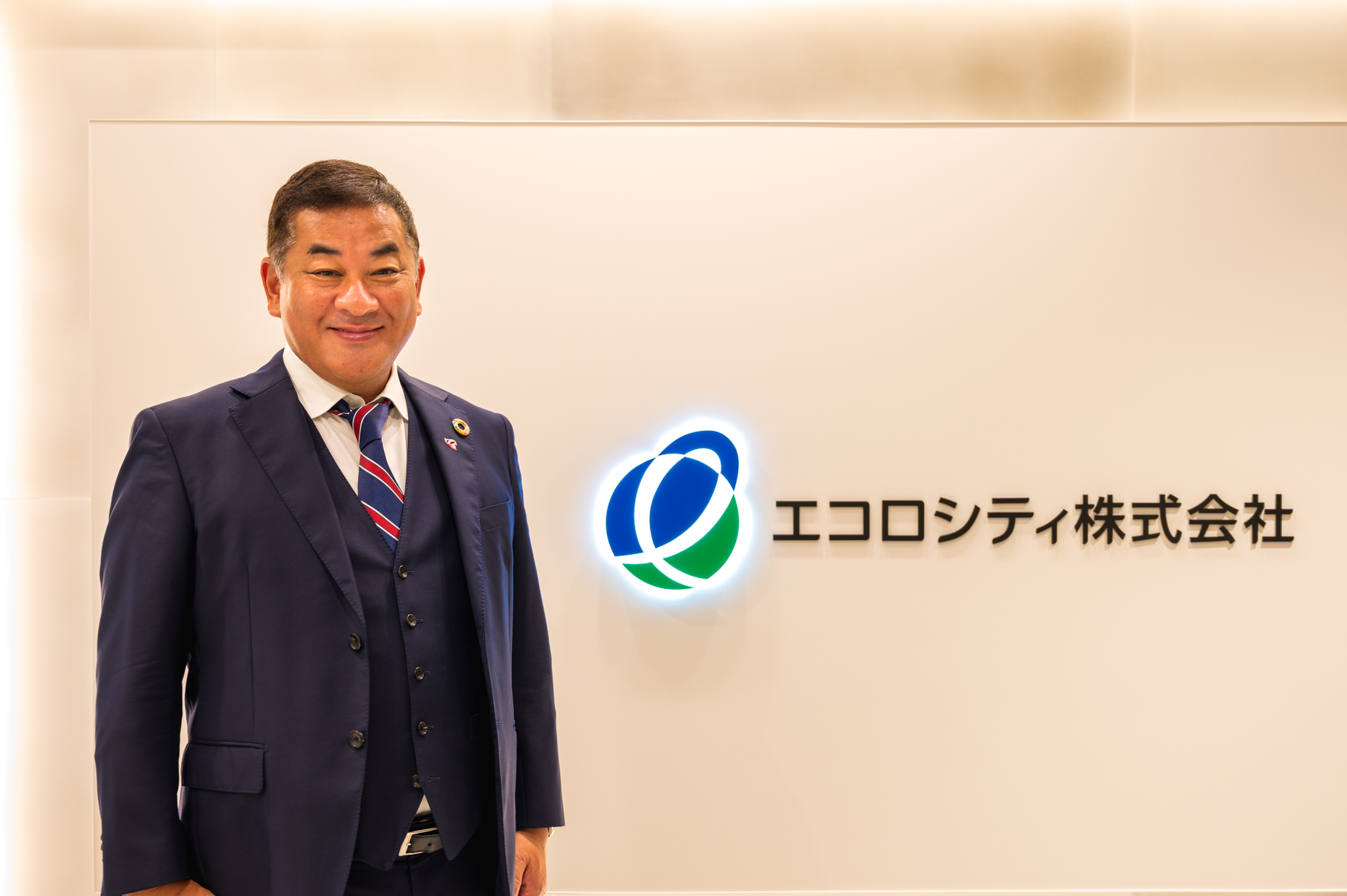 A sense of security that I felt after actually working
ーーI would like to ask Ms. Ideue and Ms. Sugihara, if the company you work for understands breast cancer awareness and provides support for examinations, does your sense of satisfaction change?
On Ide)In addition to reducing the financial burden of support,I am very grateful that the company values ​​its employees.That's why I feel like I want to contribute to the company and give back.
Sugihara)I myself have a family history of cancer, so although I am concerned about breast cancer, I tend to procrastinate because it takes time and effort to make a reservation. In eco-cityI am very grateful for the support that the company provides for all reservations, and I feel a sense of security.
ーー So you feel more emotionally satisfied with the company's support than you do financially. How do you feel about the appeal of Ecolocity?
On Ide)I joined the company mid-career, but I really feel that it is a company that evaluates me equally regardless of gender. In the past (in my previous job, etc.), there were times when things that were taken for granted by men were unexpectedly not possible from the standpoint of women, but from the time of the interview, regardless of gender, I was told that the results would be properly evaluated. I was asking. I feel that even when I actually work, so that point is still attractive.
What is it like to create an organization with many female employees?
ーーI heard that both of you gave birth and took childcare leave. Mr. Sugihara, I heard that her husband is currently taking childcare leave due to an in-house marriage.
Sugihara)At the time of the interview, I heard that there are employees who understand childcare leave and maternity leave, and actually take them, so I was attracted to them.I actually took childcare leave, but when I expressed my desire to work as much as possible, they immediately returned to work and responded flexibly.
On Ide)In my case, I was the first person in the sales department to take childcare leave at that time, but I think that many employees are now able to make their own choices regarding maternity and childcare leave.
ーーAs the number of female employees in sales positions is increasing, what did President Inoue feel or was aware of when building the organization?
Inoue)For example, if there is only one woman in the department, or if the boss is a man, the strengths of being a woman may not come out much.That's what I feel.
In the case of EcoloCity, the boss is also a woman, so it is easy to come up with ideas that come from a unique female perspective. I'm here.
I don't think it's a good idea to say this because I'm too female, but all female employees are quick to learn, and many of them have a sense of cooperation that makes them cover up for each other.
–Are you usually conscious of the kind of cooperativeness that President Inoue mentioned?
On Ide)I haven't been very conscious of it, so it's a new realization, but even if there are new employees, there may be many female employees who can produce results on their own relatively quickly.
Sugihara)When I joined the company, the training was short, about two weeks. However, the support of senior employees was very generous, and even if I had to go to sales alone, I could ask questions immediately, so it was easy to do even if I had no experience.
ーーThere is an environment where even inexperienced people can play an active role.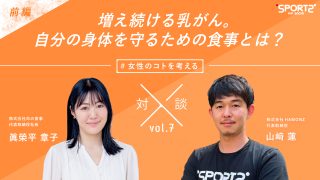 [#Thinking about women]Breast cancer continues to increase. What is food that protects your body?In this series, with the theme of "#thinking about women's things", companies that develop femtech fields and services for women with the aim of not only women but also men knowing and understanding "women" conduct a dialogue with In the dialogue, Ren Yamazaki, representative of HAMONZ Co., Ltd., which operates Sports for Social, dares to ask questions and doubts about "women's things" from the "male" perspective. You should be able to see the reality of what you were wondering about and the answer to what you wanted to know. This year's theme is Breast Cancer. Breast cancer is the most common cancer among women (morbidity rate), and the incidence of breast cancer continues to increase. Currently, it is said that one in nine Japanese women will develop breast cancer. Therefore, this time, we interviewed Ms. Akiko Maeihei (hereinafter referred to as Maeihei), the president of Inochi no Meal Co., Ltd., which is mainly engaged in breast cancer prevention and treatment, about breast cancer. …
Aiming to be a company where everyone can work comfortably
ーーI would like to ask President Inoue about creating an environment where women can work comfortably. Are you aware that there are many female employees?
Inoue)To be honest, I'm not aware of it at all.I don't have a strange perception that I'm a man or a woman, and on the contrary, it's better not to think like that.I also feel that I don't know if it's for that reason, but there are many companies in the industry that are suffering from a shortage of human resources, and I have never had a problem with human resources in the sales department.
ーーThere was a message earlier about "if you have enthusiasm", but I can feel your desire to create an environment where you can take on challenges without raising the hurdles. Mr. Ideue, Mr. Sugihara, do you have any goals for the future?
On Ide)As the chief manager of the sales department, I would like to pursue an environment that makes it easier for employees to take childcare leave. At the same time,It is necessary to establish a system that makes it easier to produce resultsI think.
Sugihara)Like Mr. Idegami, there are many senior employees who have returned to work as chief managers after giving birth.Aiming to be a "super mom" who can continue to produce results while raising childrenis.
ーーSo, the premise is to produce results, and to that end, we need to create an environment that is easy to work in.
Inoue)The other day, the head office moved and became a building with a nursery school in the same facility. I think it has become an environment that makes it easier to raise children. I believe that the proportion of women will continue to increase in the future.I want to work hard to create a company where each and every employee can grow together with the company.I think. To that end, we will continue to place importance on initiatives such as the Pink Ribbon Campaign, which are unique to Ecolocity, which has many female employees.
ーーHearing the story, I could imagine that it will develop more and more in the future. Just as Mr. Ideue and Mr. Sugihara have become role models within the company, ecolocity can become a new role model for society as a whole. Thank you for today!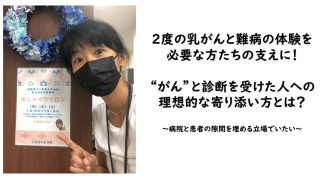 Supporting those who need the experience of breast cancer and incurable diseases twice! What is the ideal way to support someone diagnosed with cancer? ~ I want to be in a position to fill the gap between hospitals and patients ~Sports for Social has previously touched on "women's breast cancer concerns" in #thinking about women. This time, the milk is actually…
Source link