Food
Supporting food earning power "Hiroshima FOOD BATON" adopted 3 teams decided Hiroshima | JAcom Agricultural Cooperative Newspaper
Hiroshima Prefecture has decided 3 teams to be adopted for the "Hiroshima FOOD BATON" support program for the emergence of food "earning power" businesses, which will be implemented as part of the "Food Innovation Promotion Project" in FY2022.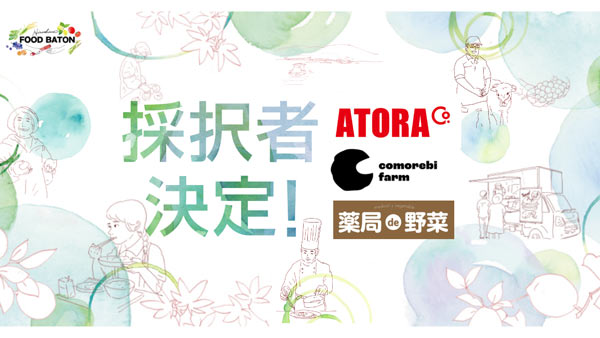 Hiroshima Prefecture has launched a program called "Hiroshima FOOD," which aims to increase the "earning power" of agricultural management entities by creating new "food" businesses through collaboration between various companies involved in production and sales and agricultural management entities. BATON". From June 1st, the program will solicit new business models that contribute to improving the "earning power" of food. We decided to pick 3 teams. In the future, we will challenge the emergence of new business models through commercialization support for the selected teams.
◎Adopted team and project overview
■ Pharmacy de vegetables
Drafting representative: Mr. Yuji Fujitani (Agre Lore Lab., Miyoshi City)[Agricultural management body (white onion)]
Community-based dispensing pharmacies face challenges in promoting customer health support in order to differentiate themselves from major drugstores. do. Specifically, we aim to create a health-themed vegetable brand made from vegetables grown in Hiroshima Prefecture, targeting customers who want to be delicious and healthy.
In order to create a brand, we will work to create new value such as product development focusing on nutritional functions (food with function claims, etc.) through collaboration with unprecedented industries such as agriculture and medical sites.
HIROSHIMA HYBRID DESIGN
Proposal representative: ATORA Co., Ltd. (Hiroshima City)[Food manufacturing industry]
Food manufacturers and agricultural management that handle everything from planning to sales in response to the needs of department stores and luxury supermarkets that want to develop high-quality and original frozen foods in small lots and at high frequency, and the use of waste vegetables that cannot be marketed. We will respond by developing and selling high-quality frozen products at high speed and high turnover, where the body becomes a team and the value that can only be found in the "moment" of freshly harvested and freshly made products is locked in.
Specifically, we are developing upcycled products that make use of discarded vegetables, etc. (vegetable-only soup "Re Soup," etc.), and developing new branded products using Hiroshima-produced agricultural and livestock products (Hiroshima Wagyu hamburger, six-grain pork). salt soba, etc.). Through this, we aim to solve the problem of Hiroshima Prefecture, which is not fully utilizing the natural environment that produces high-quality primary products, with the power of marketing, and further contribute to the earning power of agricultural management entities.
comorebi commune
Proposal representative: Shotaro Kojima (comorebi farm, Onomichi City)[Agricultural management entity (Hassaku, Anseikan)]
We will solve the problems of immigration and farming faced by city-dwelling creators who seek a rural lifestyle full of creativity through easy farming support that utilizes abandoned farmland on Innoshima. At the same time, we will create a new farming model to solve the problem of successors for citrus fruit producers in Innoshima, and create a community-type production area business based on it.
Specifically, we will develop an environment where people can experience migration and farming through the launch of farm inns, and develop a system that allows them to continue to be creators while farming. After that, starting from the "creator's community" of immigrant creators, we will develop new products (beer and aroma oil using hassaku) using local products from unprecedented perspectives and methods, and transmit the charm of the region. . Through these activities, we will create a new business model that both solves the problem of local successors and improves the earning power of agricultural management entities.
[Hiroshima FOOD BATON]