Travel
Received the highest award in Japan at the travel industry Academy Award "2022 World Luxury Travel Awards" ONLINE TRAVEL AGENCY (OTA category)!
[Tablecloth Co., Ltd.]
《Become the world's number one food entertainment company》
This time, the gourmet platform "byFood.com" operated by Tablecloth Co., Ltd. (Headquarters: Chuo-ku, Tokyo, CEO Kaoru Joho, COO Toso Serkan) Received Japan's highest award in the "2022 World Luxury Travel Awards" ONLINE TRAVEL AGENCY (OTA category).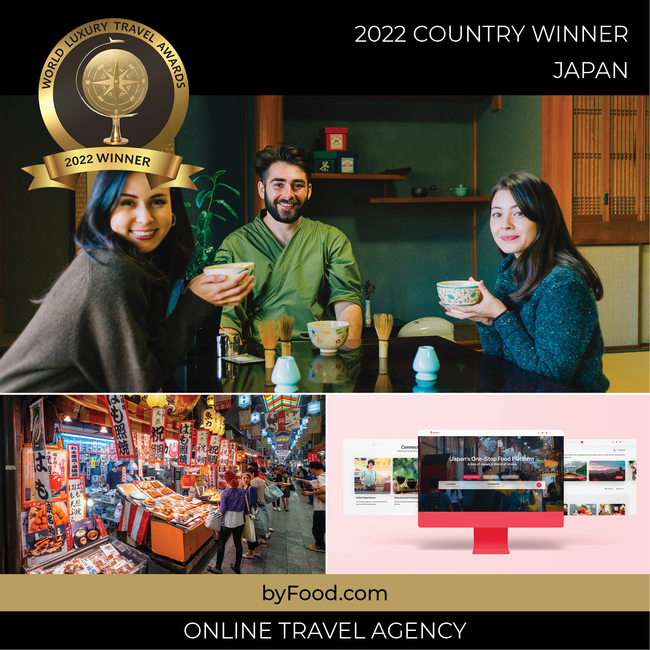 2022 World Luxury Travel Awards: Overview
Established in 2019, the World Luxury Travel Awards are prestigious awards given to travel-related facilities in various categories to honor achievements and services in the travel industry regardless of country.
A public vote is held by guests, travelers, and industry insiders to select each award.
https://www.theworldluxurytravelawards.com/
Award category: ONLINE TRAVEL AGENCY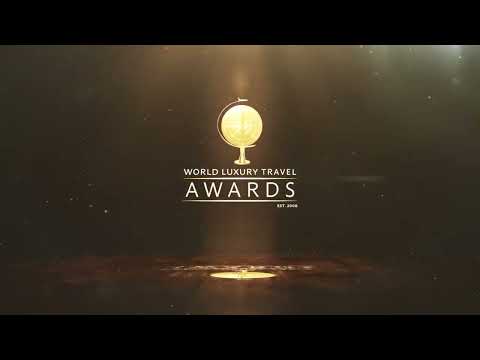 I am very honored to receive such an internationally prestigious award.
In these days, when inbound tourists are showing signs of recovery from the spread of the new coronavirus infection, we will deliver the splendor of Japanese food to people all over the world, and as many foreigners visiting Japan as possible will come into contact with the food culture that lies dormant in various parts of Japan. We will continue to push forward in order to liven up all of Japan with "food".
We would like to express our deepest gratitude to the organizers who held the event, everyone who voted, and everyone involved.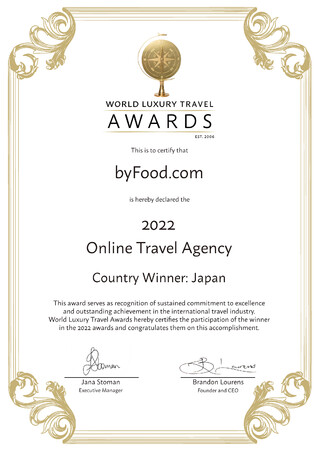 About byFood.com
byFood.com is a Japanese food platform that collects special gourmet products, experience products, and food-related items from Japan.
Through the media of this platform, we provide information gathering before coming to Japan, reservation of food experiences and restaurant reservation services for food experiences while staying in Japan, and e-commerce for food experiences in your own country after your stay. We aim to provide a one-stop service that will make you feel, "If you look at byFood, there is no problem with Japanese food!"
In addition, 10 school lunches can be delivered to children in developing countries for each reservation/order. Since its founding, we have delivered approximately 330,000 school lunches.
Furthermore, in the future, by expanding this platform to the world, including Asian countries such as Thailand and Vietnam, we will increase the number of users around the world. We will aim to expand support to the country.
byFood.com / https://www.byfood.com/
Tablecloth Co., Ltd. is the world's number one food entertainment company!
Japan has many untapped food resources.
By delivering the splendor of "food" that exists in various parts of Japan to people around the world, we would like you to pay attention to the food resources that lie dormant in various places. And we would like to revitalize the region through food by having you visit us. Our goal is to revitalize Japan with food.
Food culture, which is a regional resource, is combined with experiences, entertainment, sports, tourism, etc. to create consumption and time consumption, transforming it into an experience that will last a lifetime.
At our company, we will strive to make many people feel "happiness" by collaborating with people in various parts of Japan and creating maximum value.
◯Representatives: Chief Executive Officer Kaoru Joho, Chief Operating Officer COO Toso Serkan
◯ Location: Ginza Ohtake Residence 2F, 1-22-11 Ginza, Chuo-ku, Tokyo
◯ Established: June 2014
◯ Capital: 10 million yen
◯ URL: https://tablecross.com/en/
◯ Business content:
・Operation of restaurant reservation mobile app "Tablecloth" (Japanese)
・Operation of "byFood.com", a one-stop food platform for foreign tourists visiting Japan
・Marketing consulting for restaurants
・Creation of food experience and consulting for product development
・Overseas promotion (video production, influencer marketing, etc.)
・Corporate software development (mobile applications, websites, etc.)
Company press release details (2022/10/28-09:46)
Source link