Fashion
Released today! "FUDGE" December 2022 issue is "LONDN GIRL A little modern is the winter trend. ]Feature | Feature | Fashion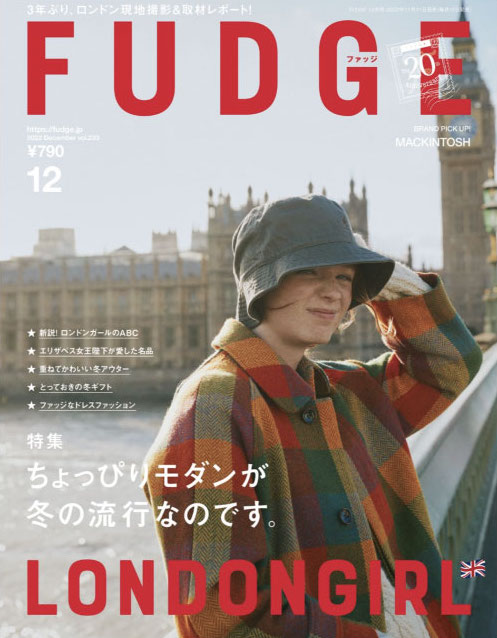 The latest issue of "FUDGE" features a special feature "LONDN GIRL A little modern is the winter trend." Introducing the winter style of London girls and the latest information in the UK. What kind of items should you choose to enjoy fashion like the London girl you admire? What is the correct way to dress? Attention to the 7 keywords that make a London girl's winter style.
[Plaid of Britain British-born plaid pattern]"London girls are all about plaid!" If you want to dress up in British style, you have to know that much! A wonderful relationship between England and plaid, which is inseparable even if cut.
[HER ESSETIALS Dear Queen Elizabeth II]My grandmother's fashion icon is Queen Elizabeth II of England. Her grandmother wears only the finest items Her Majesty loved. That's why I heard. "What's grandma's essential?"
[Get your coat and Go out!!! Outerwear is the star, winter style sample]Speaking of winter fun, cute outerwear. What should I do to make my favorite one look better than anyone else? Let's think about special styling that is unique to this season when it's cold but happy.
[what you want in the gift season and what you want to give. Lovely Lina's Holiday Gift]The season full of smiles has arrived in a year! Model Lina loves to think of gifts for her loved ones. Make a list of the wonderful things you want to give and receive for each occasion.
[LET'S PARTY!!! I got invited to a party! ]CHERS! Hi she is TOPKO. It feels great to be invited to a party out of the blue, but what should I wear…? Dress up in your own style while using your usual wardrobe! Please use this as a reference for the coming holiday season♪
■ FUDGE vol.233 body price ¥ 790 (excluding tax)
☞ Check out the sales site for the latest issue!!
Source link